The land is still, the powder fresh. Almost feels like the valley is holding its breath.
Form your ranks, we will not yield. With axe and club and thunder-blood we'll die before we kneel!
When morning comes, it's time to fight! We'll plant the flag of victory as we prove our might!
Raise your voice for Alterac! Just remember (Whoa-oh-oh)
Never fall back. Never fall back. Hold the bridge, pull the ridge, never fall back!
Never fall back! Oh, never fall back! Claim the mines, hold the line, never fall back! (Go!)
Never fall back! Oh, never fall back! (Wait!)
(What's that?)
(They summoned the Ice Lord!)
Hurry! Fall back! Hurry! Fall back! (Fall back!) (Fall back!)
Their captains are quaking their base for the taking. Push forward, attack! We'll never fall back! Because we're here in Alterac!
Fractured in Alterac Valley
| | |
| --- | --- |
| Type: | Expansion |
| Format: | Standard |
| Ann. date: | November 16, 2021 |
| Release date: | December 7, 2021 |
Total cards
Fractured in Alterac Valley is Hearthstone's 19th expansion, featuring new 135 collectible cards released on December 7, 2021.[1][2] Set in Alterac Valley, the expansion depicts the epic battle between the Alliance and the Horde and concludes the story of 10 mercenaries, who decided to join the battle for honor and shards of a fallen naaru.
Fractured in Alterac Valley features again 10 mercenaries, this time max leveled as hero cards, a new keyword Honorable Kill which triggers its bonus effect when the card deals exact lethal damage to the target on their owner's turn, and Objective spells which have an ongoing effect lasting for 3 turns.
Fractured in Alterac Valley also features a faction event that lasts from December 7 to January 11, which the player fights for honor points to claim the diamond version of the faction leader card they have chosen.
How to get
Fractured in Alterac Valley craftable cards will be obtained by one of the following methods:
Cards
These specific cards can be obtained through other means. For more information, see individual articles.
Pre-order
Prior to the expansion's release, players could purchase one or both of the following bundles:
Cards
Fractured in Alterac Valley card set features 135 collectible cards, which can be recognized with a special watermark (the Flag symbol) behind the card text, not found on other cards.
Neutral
Demon Hunter
Druid
Hunter
Mage
Paladin
Priest
Rogue
Shaman
Warlock
Warrior
Themes
Hero Cards
Our merry band of mercenaries have grown stronger in their travels. Now they're max level and ready to fight! Each hero card has a powerful Battlecry and Hero Powers that can turn the course of battle![3]
New Keyword: Honorable Kill
Sometimes the damage lines up just perfectly and it feels so right! Cards with the Honorable Kill keyword grant you a bonus effect when they use exact damage to kill an enemy minion on your turn.[3]
Objectives
Alterac Valley is full of strategic Objectives that you can use to your advantage. Objectives are spells that have effects that last three turns! Claim the Objective and press the advantage while you have it![3]
Videos
Lore
In World of Warcraft
This section uses content from Wowpedia.
Official overview
Long ago, the warlock Gul'dan exiled a clan of orcs called the Frostwolves to a valley hidden deep in the heart of the Alterac Mountains. The Frostwolf Clan eked out a living until Thrall triumphantly united many of Azeroth's orcs. The Frostwolves, however, chose to remain in the valley rather than joining Thrall in Orgrimmar – and their relative peace has since been challenged by the arrival of the dwarven Stormpike Expedition. The Stormpike Expedition's desire to mine and plumb the underexplored caves for relics has invited conflict with the Frostwolf Clan, but opinions are divided on who struck first. Were the dwarves who arrived in the valley peaceful explorers who were massacred by the orcs, or did they plan to poach and conquer?[4]
Description
Hidden within the Alterac Mountains, Alterac Valley is the home of the Frostwolf clan. The Stormpike dwarves have established a foothold in the valley and seek to plumb its depths for riches and links to their ancestral past. A large-scale battleground, each side attempts to destroy each other's tower fortifications and slay the enemy General (Vanndar Stormpike or Drek'Thar).
History and politics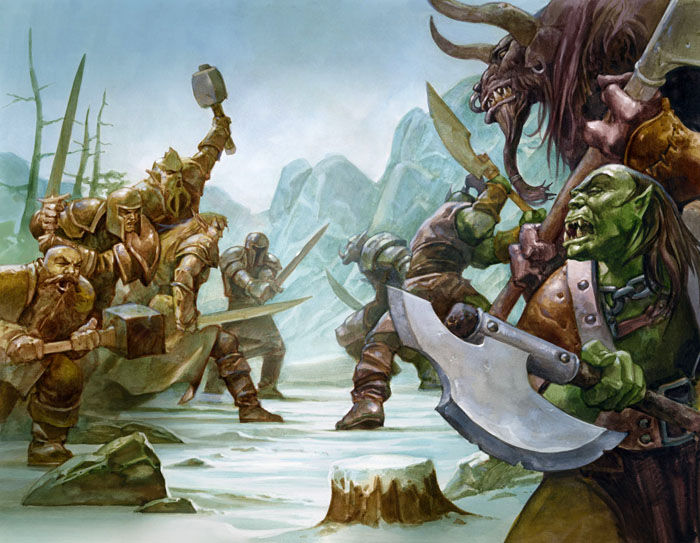 In Hearthstone
Expansion overview
Blog overview
History
Gallery
References