Flanking Strike
Flanking Strike
Deal 3 damage to a minion. Summon a 3/3 Wolf.
Wolves to the left and arrows to the right, here I am stuck in the middle with you.

Flanking Strike is a common hunter spell card, from the Kobolds & Catacombs set.
Flanking Strike can be obtained through Kobolds & Catacombs card packs, or through crafting.
| Card | Crafting cost | Disenchanting |
| --- | --- | --- |
| Flanking Strike | 40 | 5 |
| Golden Flanking Strike | 400 | 50 |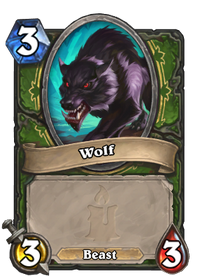 Flanking Strike cannot be played if there are no targetable minions on the board. If somehow the card is played when the board is empty (for example, if it is cast by playing Zul'jin while the board is clear), the card has no effect--no damage is done and no wolf is summoned.
If your board is full and you destroy your own minion with this spell, the Wolf will not be summoned.[1]
Flanking Strike can be considered favourably comparable to Fire Plume Phoenix; dealing one extra damage, swapping the elemental type for beast, and counting as a spell rather than a minion. It's a decent value tempo card that can remove most 2 or 3 mana minions while also putting a 3/3 beast on the board. This spell works especially well in Spell Hunter decks, allowing for a decent minion while still letting Rhok'delar and To My Side! activate.
Flanking Strike is a level 12 ability for Survival hunters that causes the hunter and their pet to both instantaneously attack a target enemy. If the target is attacking the hunter, the pet will deal 50% increased damage and generate 400% increased threat. Otherwise, the hunter's attack will deal 50% increased damage.
The flavor text is a reference to Stuck in the Middle with You, a song by the band Stealers Wheel.