Flame of Azzinoth
Regular
Gold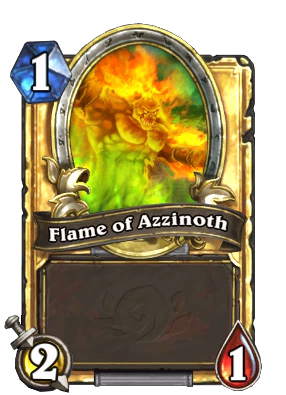 External links
For the removed version, see Flame of Azzinoth (removed). For the tutorial hero power, see Flames of Azzinoth. For the tutorial minion, see Flame of Azzinoth (tutorial).
Flame of Azzinoth is an uncollectible neutral minion card, summoned by Illidan Stormrage (Classic).
Summoned by
[
]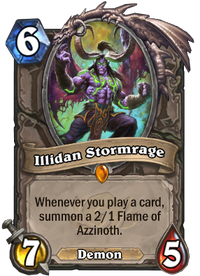 Lore
[
]
The Flame of Azzinoth is an outpouring of the demonic energy contained within the Warglaives of Azzinoth.

This section uses content from Wowpedia.
In his duel with Arthas, Illidan mentions part of the backstory of the Twin Blades of Azzinoth. The Twin Blades were the favored weapon of a doomguard — a powerful demon captain whom Illidan slew ten thousand years ago.
Trivia
[
]
Gallery
[
]
Patch changes
[
]