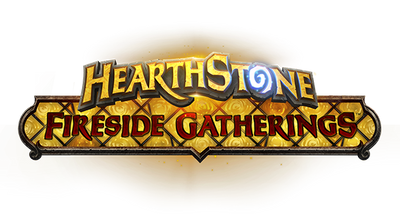 Fireside Gatherings are real-world gatherings of people to play Hearthstone in mostly public places. They are intended to be an opportunity for Hearthstone players to meet, mingle and form real-life friendships, as well as enjoy playing the game face-to-face with opponents in either casual or tournament format.
Gatherings can be of any size, and may feature multiple player pools (such as a "novice pool" and an "expert pool") or even mini-tournaments, but are intended to be open to players of all skill levels. With suggested locations of coffee shops, book stores and college dorms, Fireside Gatherings are mostly intended for users of iPads and laptops, although any computer on the same network could be considered part of the event.
Blizzard actively encourages players to organise their own gatherings on an ongoing basis, as well as periodically suggesting events specifically themed around upcoming content releases, as with the One Night in Karazhan Release Party. Blizzard provides prospective innkeepers with information and resources, and provides players with listings of gatherings, available on the official Fireside Gatherings website.
The Fireside Gathering concept was debuted by Blizzard on April 17th 2014 to celebrate the launch of Hearthstone on iPad.[1] As of June 2016 Blizzard are actively working on promoting Fireside Gatherings and making it easier to find people to play Hearthstone with in real life.[2] On April 4, 2017, new functionality for Fireside Gatherings was added with Patch 8.0.0.18336.
Fireside Brawls
[
]
Main article: Fireside Brawl
Fireside Brawls are special Tavern Brawls that are only played at Fireside Gatherings. Each month reveals a different Fireside Brawl to try. Players at the Fireside Gathering play with each other in these special Tavern Brawls.
Tavern Hero Tournaments
[
]
Main article: Tavern Hero Tournaments
Tavern Hero Tournaments are special Blizzard-sanctioned Hearthstone tournaments at Fireside Gatherings, taking place in select locations across the Americas. Winners from Tavern Hero Tournaments are named "Tavern Heroes" and are invited to compete in the next upcoming Season Playoffs for the Hearthstone World Championship Tour.
Notes
[
]
The Launch card back was created to reward players participating in Fireside Gatherings, although it can be earned without attending one. The card back is awarded by completing the "Fireside Friends" quest, which requires playing three matches against other players on a subnet, with at least three players in total on that subnet.
At the time of the initial announcement, 10 Fireside Gatherings were planned, all in the US, for April 26th 2014. By the end of April 26th, nearly 80 Gatherings had been added to the LiquidHearth and official site event listings. While predominately taking place in the US, nearly 20 other countries also had Gatherings planned, from Asia and Europe to South America. Around 40 of these were scheduled to take place on April 26th, with most of the others spread out across the next week. In addition to these online listings, it is likely many other Gatherings took place, either advertised locally, or online through individual websites. Since any real-world gathering of Hearthstone players is considered a Fireside Gathering, a far larger number of less organised Gatherings may also have taken place, with little or no advertising.
Since then, Blizzard has continued to regularly encourage the organisation of Fireside Gatherings. This has led to a large convergence of Gatherings around specific dates, as well as a smattering of events on an ongoing basis.
Gallery
[
]
References
[
]
External links
[
]