The Fire Fest-E.V.I.L. is a Hearthstone event lasting from July 10 to July 31, 2019.[1] Based on previous years' Midsummer Fire Festival event, the Fire Fest-E.V.I.L. ties into the ongoing narrative of the Year of the Dragon and features new Tavern Brawls, legendary quests rewarding gold and card packs, and card reveals for the upcoming Saviors of Uldum expansion.
Features
[
]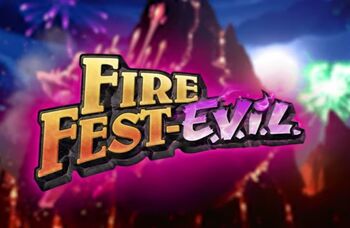 The Fire Fest-E.V.I.L. shares the following features with the regular Midsummer Fire Festival:
During the event, the main menu is populated by drifting sparks, and the occasional wisp of fire trailing across the screen
Tavern Brawls
[
]
Blackrock Crash Week 1 (July 10 – 17)
[
]
Main article: Blackrock Crash
A Dalaran Heist-style PvE Tavern Brawl in which the player must defeat 8 Blackrock Mountain bosses using one of the members of the League of E.V.I.L. and construct their deck as they go. Defeating bosses will reward a Saviors of Uldum card pack and the Ragnaros card back (previously only obtainable from the March 2015 Ranked Season), while completing a run under certain time limits will reward golden copies of Bronze Herald and Recurring Villain.[1]
Blackrock Crash Week 2 (July 17 - 24)
[
]
Main article: Blackrock Crash
The second week of Blackrock Crash saw the addition of Arch-Villain Rafaam as a playable hero. Defeating 4 bosses will grant another Saviors of Uldum card pack, while completing a run as Rafaam will grant a golden copy of Rafaam's Scheme.[1]
The Burndown (July 24 - 31)
[
]
Main article: The Burndown!
A player vs. player Tavern Brawl in which players compete against one another with random decks. If a player loses, they get a copy of their opponent's deck. The first time a player wins a match, they'll receive a Saviors of Uldum card pack.[1]
Fireside Brawl: Big Bad Rag Raid (July 10 - 31)
[
]
Main article: Big Bad Rag Raid
Available through the entire Fire Fest-E.V.I.L., this Fireside Gathering Brawl sees players fighting Ragnaros as members of the League of E.V.I.L., but they'll have to work together with their friends to bring him from a staggering 15,000 Health down to zero.[1]
Legendary quests
[
]

Please add any available information to this section.
The Fire Fest-E.V.I.L. features several legendary quests that reward either a card pack from one of the current Standard card sets, or a significant amount of gold. A new quest will unlock each day for the first 7 days of the event in addition to players' normal daily quests. The legendary quests will only be granted up to the conclusion of the event on July 31.[1]
Community challenge
[
]
For the first two weeks of the Fire Fest-E.V.I.L., players had the opportunity to reveal a total of four new cards from the upcoming Saviors of Uldum expansion by working together to collectively defeat a total of 25 million bosses in both iterations of the Blackrock Crash Tavern Brawl. In addition, wins in the Big Bad Rag Raid Fireside Brawl counted as 500 boss defeats.[1] As progress was made towards this goal, the cards were revealed by Blizzard on Twitter.
Lore
[
]
The Fire Fest-E.V.I.L. takes place between the events of Rise of Shadows and Saviors of Uldum. As the League of E.V.I.L. are transporting the flying city of Dalaran to Uldum, Blastmaster Boom somehow manages to crash the entire city into Blackrock Mountain, abode of Ragnaros (host of previous years' Fire Festival), Nefarian, and their minions.
Blog

Anyone attempting to navigate a rocket-propelled capital city full of megalomaniacal super-villains across a continent rife with mountains, monsters, and magic can expect to encounter a few minor hiccups. Crashing the entire floating city into Blackrock Mountain during Ragnaros' Fire Festival wasn't planned, but when life hands them lava, the League of E.V.I.L. gets creative.
Move over Ragnaros, it's time for the… FIRE FEST-E.V.I.L.![1]
Trailer

Ragnaros: IT'S THE TRIUMPHANT RETURN OF THE FIRE FESTIVA-
(crash)
Rafaam: How did we crash into A MOUNTAIN!?
Boom: Hey! Runnin' into a mountain isn't an art, it's a SCIENCE!
Rafaam: Well, as long as we're stuck here, might as well have some fun. Welcome, lackeys and villains, to the Fire Fest-E.V.I.L.! Dungeon crawl through Blackrock Mountain with the League of E.V.I.L.! Let's show these elements who's the REAL king of the mountain! Next,

test your skills with a random deck

, but there's a twist! If you are defeated, you get a copy of your opponent's cards! Your reward for all this villainy? Behold a mountain of spoils, ours for the taking! Waahahahaha! Who's going to stop us?
Ragnaros: SUFFER, TRESPASSER!
Rafaam: Oh, right. I forgot about this guy. Looks like we're going to need some more villains. In fact, you'll need to team up with your entire tavern to put out THIS fire! With every Blackrock boss we defeat together, more cards from our future in Uldum will be revealed! There's only 25 million to conquer, SO GET TO WORK! Be quick about it! The Fire Fest-E.V.I.L. is only for a limited time... or until Dr. Boom can get Dalaran unstuck.[6]
References
[
]
External links
[
]
| | Events |
| --- | --- |
| Seasonal | |
| Special | |
| Removed | |