Fiendish Rites
Fiendish Rites
Invoke Galakrond. Give your minions +1 Attack.
"You have the right to sacrifice an ally. If you do not have an ally, then one will be sacrificed for you."
Fiendish Rites is common warlock spell card, from the Descent of Dragons set.
Fiendish Rites can be obtained through Descent of Dragons card packs, or through crafting.
| Card | Crafting cost | Disenchanting |
| --- | --- | --- |
| Fiendish Rites | 40 | 5 |
| Golden Fiendish Rites | 400 | 50 |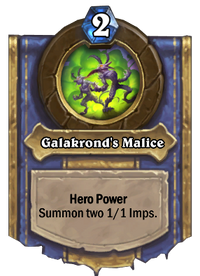 At the very worst, this card summons two 2/1 Imps, making it a worse Landscaping with an Invoke effect. The best use of this card is to buff an already filled board, gaining immediate value from the attack bonus.