Festergut
Festergut
| | |
| --- | --- |
| Set: | Knights of the Frozen Throne |
| Type: | Minion |
| Class: | Neutral |
| Rarity: | Legendary |
| Cost: | 4 |
| Attack: | 3 |
| Health: | 5 |
| Abilities: | Deal damage |
| Tags: | Area of effect, Triggered effect |
| Artist: | Paul Mafayon |
At the end of your turn, deal 3 damage to all enemy minions.
Festergut is a boss minion card used in Knights of the Frozen Throne. It is not available to players.
For more information, see Professor Putricide (boss).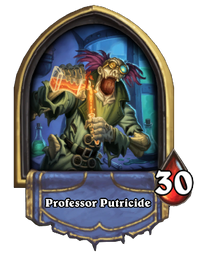 Summon
Attack
Death
"Daddy, I did it!"
Festergut is one of two flesh beasts created by Professor Putricide, along with Rotface. Both of Putricide's creations are bosses in the Plagueworks wing of Icecrown Citadel that players need to destroy before they can challenge Putricide himself.