Felfire Potion
Felfire Potion
Deal 5 damage to all characters.
Kazakus has a squad of imps bottling Felfire round-the-clock and he *still* can't keep up with demand.
Felfire Potion is a rare warlock spell card, from the Mean Streets of Gadgetzan set.
Felfire Potion can be obtained through Mean Streets of Gadgetzan card packs, or through crafting.
| Card | Crafting cost | Disenchanting |
| --- | --- | --- |
| Felfire Potion | 100 | 20 |
| Golden Felfire Potion | 800 | 100 |
As well as being collected in decks, this card can also be generated by the following card.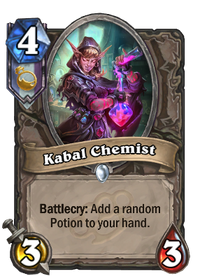 Felfire Potion is a powerful board clear at warlock's disposal. Being able to deal 5 damage to all characters, including Stealthed minions like Finja, the Flying Star, makes this card very strong. It will also effectively clear out early Jade Golems.
However, the spell's downside - dealing 5 damage to your hero - needs to be seriously considered. When playing against aggro decks, your remaining Health by turn 6 might already be too low to cast this spell and survive.
This spell is essentially an upgraded version of Hellfire with higher risk and return.
In the final third of the Year of the Kraken, this card saw play in a few variations of Reno Warlock, given its incredible power to clear threats before Twisting Nether can be deployed, with Reno Jackson making up for the loss of Health.
This card is maybe the second card based on Ysera's Ysera Awakens card, which does the same effect.