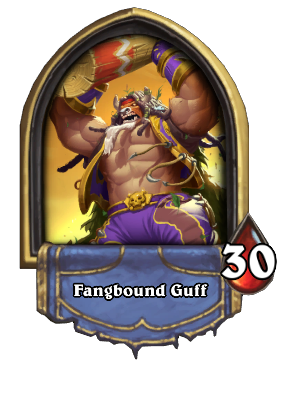 For other representations of Guff, see Guff Runetotem (disambiguation).
Fangbound Guff is an alternate hero for the

Druid class.
How to get
[
]
Fangbound Guff is obtained by purchasing the Tavern Pass and reaching level 60 in the United in Stormwind's Rewards Track.
Functionality
[
]
Once unlocked and selected for use, Fangbound Guff replaces Malfurion Stormrage whenever the player uses a Druid deck, as well as:
Comes with own portrait
Has custom emotes
For more information, see Alternate heroes.
Flavor text
[
]
When viewed in the Collection, Fangbound Guff has the following flavor text:
Guff's heart is big, his strength is mighty, and he has the uncanny ability to squeeze into Druid of the Fang armor.
Earnable after purchasing the Tavern Pass.
Sounds
[
]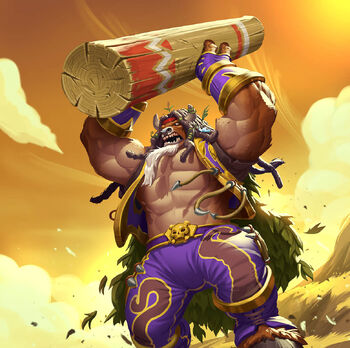 Each hero has their own selection of audio and written emotes that are produced in response to specific events. For more information, see Emote.
Most of Fangbound Guff's sounds are the same as Guff Runetotem. Unique, different ones are noted as Unique in References section.
| Type | Transcript |
| --- | --- |
| Trigger: Celestial Alignment | Link▶️We are all connected, from humble seed to heavenly star! |
| Trigger: Force of Nature | Link▶️Have you met my tree friends? |
| Trigger: Living Seed(Rank 1, 2, 3) | Link▶️I call to you my animal friends! |
| Trigger: Pounce | Link▶️I'm agile! |
| Trigger: Thorngrowth Sentries | Link▶️Look at the tiny turtles! |
| Trigger: Wild Growth | Link▶️From the smallest seed… |
| Attack [1] | Link▶️Guff smash![1] |
| Death [1] | Link▶️<Death> |
| Emote: Greetings | Link▶️Peace, friend.[1] |
| Emote: Well Played | Link▶️Ancestors watch over you.[1] |
| Emote: Oops | Link▶️This outfit kinda chafes.[1] |
| Emote: Threaten | Link▶️You don't want to see Guff angry.[1] |
| Emote: Thanks | Link▶️So kind of you![1] |
| Unused: Sorry | Link▶️Oh, sorry! |
| Concede | Link▶️I'll miss you! |
| Start | Link▶️I defend the blessings of nature.[1] |
| Running out of time | Link▶️Ack! That rope's burning again. |
| Thinking [1] | Link▶️Hmm… |
| Thinking [2] | Link▶️<Whistles Hum dee dum> |
| Thinking [3] | Link▶️Think, Guff, think! |
| Almost out of cards | Link▶️Only one card left; I hope it's good! |
| Out of cards | Link▶️Hey, where'd my deck go? |
| Error: Need a weapon | Link▶️But I do not have a weapon. |
| Error: Not enough mana | Link▶️I need more mana. |
| Error: Minion exhausted | Link▶️But that minion already attacked. |
| Error: Hero already attacked | Link▶️I don't want to hurt anyone else. |
| Error: Minion not ready | Link▶️Give that one a turn! They just got here. |
| Error: Hand already full | Link▶️I will make room in my hand. Wait! |
| Error: Too many minions | Link▶️No room! No room! |
| Error: Can't target Stealthed minion | Link▶️Someone's playing tricksy. |
| Error: Can't play that card | Link▶️I can't do that. |
| Error: Must attack Taunt minion | Link▶️But that other one has the shieldy thing. |
| Error: Generic | Link▶️Nooo! |
| Selection in Choose Your Hero | Link▶️Take only memories; leave only hoofprints.[1] |
| Emote: Greetings [Lunar New Year] | Link▶️It's a new year full of possibilities. |
| Start [Mirror] | Link▶️Naturally.[1] |
| Emote: Greetings [Holidays] | Link▶️Happy holidays! |
| Emote: Wow | Link▶️I did not see that coming![1] |
| Emote: Greetings [Happy New Year] | Link▶️It's a new year full of possibilities. |
| Emote: Greetings [Fire Festival] | Link▶️Fire Festival? My tree friends don't like all the burning. |
| Unused: Greetings [Pirate Day] | Link▶️Pirates are scary, but their peg legs are fun to talk to. |
| Emote: Greetings [Happy Halloween] | Link▶️Happy Hallow's End! But please, think of the innocent pumpkins. |
| Unused: Greetings [Happy Noblegarden] | Link▶️Have a happy Noblegarden! |
| Emote: Greetings [Mirror] | Link▶️A piece of what?[1] |
Patch changes
[
]
References
[
]