Fallen Hero
Regular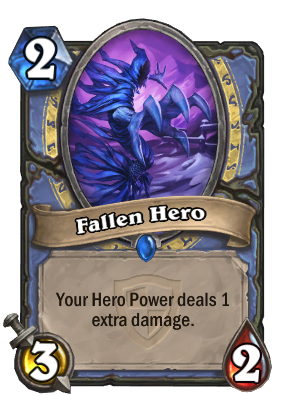 Gold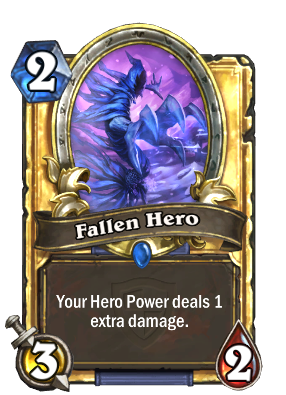 Your Hero Power deals 1 extra damage.
Flavor text
And he can't get up.
External links
Fallen Hero is a rare mage minion card, from the Grand Tournament set.
Other versions
[
]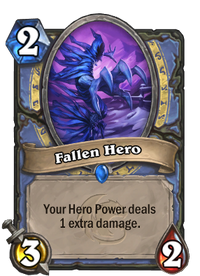 How to get
[
]
Fallen Hero can be obtained through The Grand Tournament card packs, or through crafting.
| Card | Crafting cost | Disenchanting |
| --- | --- | --- |
| Fallen Hero | 100 | 20 |
| Golden Fallen Hero | 800 | 100 |
Core set
[
]
Two copies of regular Fallen Hero (Core) are obtained for raising mage to level 7.
Two copies of golden Fallen Hero (Core) are obtained for winning 100 games as mage.
Fallen Hero (Core) is uncraftable and cannot be crafted or disenchanted.
Notes
[
]
This card's ongoing effect affects any Hero Power which deals damage, including Fireblast, Steady Shot, Life Tap, Mind Spike, Mind Shatter, DIE, INSECT![1] and Lesser Heal or Heal affected by Auchenai Soulpriest or Embrace the Shadow.[2] It does not affect non-damaging Hero Powers.[1], including regular Lesser Heal and Heal and Hero Powers that boost a hero's Attack like Shapeshift.
Multiple Fallen Heroes stack.
Being an additive bonus, Fallen Hero's effect is applied before being multiplied by multiplicative bonuses like Prophet Velen.
Fallen Hero's ongoing effect is displayed similarly to Spell Damage, with purple sparkles around the minion and the hero's Hero Power, if eligible.
For additional details, see Damage#Advanced rules.
Fallen Hero dynamically modifies the numbers printed on the text of eligible Hero Powers accordingly. For example, with a Fallen Hero in play, Fireblast will read "Deal *2* damage.".
Strategy
[
]
This card is very useful for increasing the mana efficiency of the mage's Hero Power. As long as it is on the battlefield, your enemy will have a hard time building a board in the early game. Has great synergy with Coldarra Drake for late game and also with Duplicate and Echo of Medivh for increasing the effect even more through the multiple copies these cards provide.
Quotes
[
]
Summon
Attack
Death
Lore
[
]
The Fallen Hero mirrors the Fallen Hero's Spirits from Icecrown. They are the spirits of Horde and Alliance heroes who killed each other over the Broken Front. When a group of Horde patrolled the land, they found the Alliance battling the Scourge. Deciding to take the opportunity, they attacked the Alliance from behind. However, their Backstab would be for nothing as all three groups suffered defeat. Forces of the Scourge came soon after to start raising them into undead.
Trivia
[
]
The flavor text for this card refers to a well-known 1980s TV commercial for LifeCall, an American personal emergency response service mainly geared towards senior citizens with mobility problems, in which an elderly woman named Mrs. Fletcher uses the LifeCall pendant device to call for paramedics by yelling "I've fallen, and I can't get up!" after having fallen in the bathroom.
Gallery
[
]
Fixed bugs
[
]
Patch changes
[
]
References
[
]