"Happy Noblegarden! Celebrate the season by dyeing eggs, one will spawn each turn! You'll get 10 random class cards and a bunch of dyes to help you hatch something cute."
Everybunny Get in Here! is a Tavern Brawl. It debuted on May 9, 2018.
History
[
]
| Tavern Brawl | Start | End |
| --- | --- | --- |
| 152 | May 9, 2018 | May 14, 2018 |
| 303 | March 31, 2021 | April 7, 2021 |
Overview
[
]
At the start of each player's turn a Noblegarden Egg is summoned. On the next turn, it hatches into another minion. Without any dyes applied, it will always spawn a Bunny. Players can use a Shifting Dye on the egg to give the summoned minion a buff when it gets summoned. Eggs with dyes applied will summon a larger variety of "cute" minions.
Player's deck

| Card | Count |
| --- | --- |
| Shifting Dye | 16 |
| Noblegarden Goblin | 1 |
| Hawkstrider Hen | 1 |
| Carrots | 1 |
| Noblegarden Spoon | 1 |
| Random class cards | 10 |
Notes
[
]
Unlike other cards that transform into other cards like Shifter Zerus and Molten Blade, Shifting Dye can change on the same turn it's drawn.
Special cards
[
]
Strategy
[
]
This Tavern Brawl is RNG placed on top of RNG. There's not much strategy except to use your dyes whenever you can. It's better to just use one dye per egg than multiples on one, however.
Lore
[
]
In World of Warcraft

[

]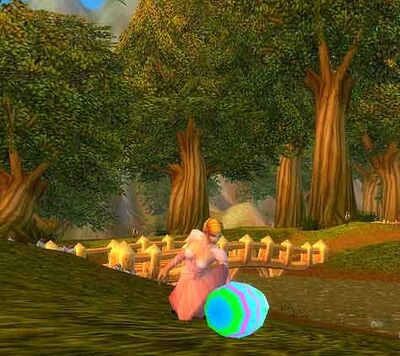 Noblegarden is an Easter event, taking place around the real-life holiday, based on the Western interpretation. Thus the event can occur anytime from the end of March to the end of April. Players can search for colored eggs hidden around 4 towns close to each race's starting area. Noblegarden starts on Easter Sunday, and lasts for one week.
The great feast of Noblegarden has long been celebrated by the races of the Alliance and recently adopted by those of the Horde. On this joyous day, it is customary for the nobles and lords from each race to hide coins, candy, and the occasional treasures within special eggs painted to look like wildflowers. These eggs are then scattered around the major cities for the citizenry to find. From heroes to commoners, and everyone in between - the feast of Noblegarden is meant to bring communities together to share the joy of life and friendship.
| | Tavern Brawls |
| --- | --- |
| Constructed | |
| Randomized | |
| Premade | |
| Brawliseum | |
| Cooperative | |
| Single-player | |
| Fireside Brawls | |