(3 intermediate revisions by 3 users not shown)
Line 11:
Line 11:
 

==Strategy==

 

==Strategy==

 

{{Stub-section}}

 

{{Stub-section}}

 
+

This minion can potentially lock down your opponent's board if they're playing a slower deck. It can be especially hard for a [[Mage]] to remove.

 
+
 
+

Despite this card's resilience to spell removal, it still is easy destroyed by [[Kobold Lackey]], [[Springpaw]], or even a simple [[Shapeshift]]. It is also vulnerable to [[Area of effect]] spells.

 
+
 
+

==Lore==

 
+

Evasive Chimaera is an {{wow|Outland}} {{wow|chimaera}}.

 
+
 
+

{{Fromwow}}

 
+
 
+

:''Once known as {{wow|rylak}}, these chimaera in Outland have been warped by the destruction of {{wow|Draenor}}. They have smooth, vibrant skin and alien, bony features. Wherever they are found, they are typically considered a pest. They live in {{wow|Shadowmoon Valley}} and {{wow|Blade's Edge Mountains}}. One notable chimaera also live in {{wow|Netherstorm}}. Interestingly, their bodies are very similar to the Outland-version of a {{wow|hydra}}.

 
+
 
+

==Gallery==

 
+

[[File:Evasive Chimaera full.jpg|thumb|left|x400px|Evasive Chimaera, full art]]

 
+

{{clrl}}

 
 
−

You probably shouldn't play this card.

 
 

==Patch changes==

 

==Patch changes==

 

* {{Descent of Dragons patch}} Added.

 

* {{Descent of Dragons patch}} Added.

 
 
 

[[Category:Beasts]]

 

[[Category:Beasts]]

−

[[Category:Standard format cards]]

+

[[Category: format cards]]
---
Latest revision as of 15:38, 30 March 2021
Evasive Chimaera
Poisonous
Can't be targeted by spells or Hero Powers.
Flavor text
One head only tells the truth, while the other head only tells lies. But they both spit poison.
External links
Evasive Chimaera is a common neutral minion card, from the Descent of Dragons set.
How to get[]
Evasive Chimaera can be obtained through Descent of Dragons card packs, or through crafting.
| Card | Crafting cost | Disenchanting |
| --- | --- | --- |
| Evasive Chimaera | 40 | 5 |
| Golden Evasive Chimaera | 400 | 50 |
Strategy[]

Please add any available information to this section.
This minion can potentially lock down your opponent's board if they're playing a slower deck. It can be especially hard for a Mage to remove.
Despite this card's resilience to spell removal, it still is easy destroyed by Kobold Lackey, Springpaw, or even a simple Shapeshift. It is also vulnerable to Area of effect spells.
Lore[]
Evasive Chimaera is an Outland chimaera.

This section uses content from Wowpedia.
Once known as rylak, these chimaera in Outland have been warped by the destruction of Draenor. They have smooth, vibrant skin and alien, bony features. Wherever they are found, they are typically considered a pest. They live in Shadowmoon Valley and Blade's Edge Mountains. One notable chimaera also live in Netherstorm. Interestingly, their bodies are very similar to the Outland-version of a hydra.
Gallery[]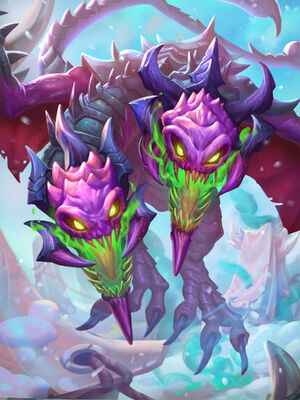 Patch changes[]