Ethereal Conjurer
Ethereal Conjurer
| | |
| --- | --- |
| Set: | The League of Explorers |
| Type: | Minion |
| Class: | Mage |
| Rarity: | Common |
| Cost: | 5 |
| Attack: | 6 |
| Health: | 4 |
| Abilities: | Battlecry, Discover |
| Tags: | Spell-generating |
| Artist: | Benjamin Zhang |
Battlecry: Discover a spell.
Despite the name, he's a solid conjurer.
Ethereal Conjurer is a common mage minion card, from the League of Explorers set.
Core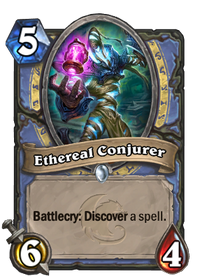 Two copies of regular Ethereal Conjurer are obtained by defeating Chieftain Scarvash, the first boss in The League of Explorers's second wing, Uldaman.
As a Wild format card, both regular and golden versions of Ethereal Conjurer can also be crafted for the following amounts:
| Card | Crafting cost | Disenchanting |
| --- | --- | --- |
| Ethereal Conjurer | 40 | 5 |
| Golden Ethereal Conjurer | 400 | 50 |
Two copies of regular Ethereal Conjurer (Core) are obtained for raising mage to level ?.
Two copies of golden Ethereal Conjurer (Core) are obtained for winning 50 games as mage.
Ethereal Conjurer (Core) is uncraftable and cannot be crafted or disenchanted.
Since there are no neutral collectible spells, this minion allows you to Discover spells matching your current class.
If you activate Ethereal Conjurer's Discover effect as the Ragnaros hero, you will be offered spells appropriate to the mage class.[1]
While at first this card's low Health and high cost makes it seem unwieldy, keep in mind you have a chance to Discover a powerful mage spell. This can help refill your hand if you are running out of cards, and you can pick the spell most suitable for the current situation.
Summon
Adept at handling arcane energy, it is little wonder this ethereal can conjure spells out of thin air.

This section uses content from Wowpedia.
Treading the chaotic spaces between worlds, the ethereals are astral travelers who dwell within the Twisting Nether. They are known to be collectors and traders of arcane items and artifacts. Now drawn to Outland, many ethereals are seeking to track down its treasures and steal them back into the Twisting Nether. They are liars and scoundrels who will stop at nothing to pursue their mysterious aims. The ethereals have no care at all for the Burning Crusade. They would even play both sides of the conflict against each other if doing so would serve to further their own goals.