Ermavar
Regular
Gold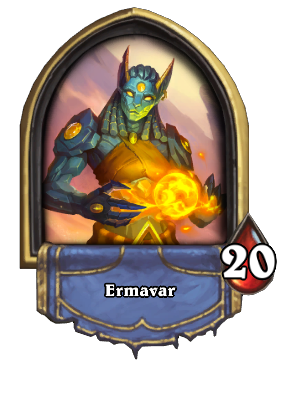 Flavor text
The first of her name, Ermavar is revered as the waker of flame.
External links
Ermavar is a boss that can be encountered in Chapter 1 of Tombs of Terror. After completing Chapter 1, this boss encounter will be available in any completed chapter.
Hero Power
[
]
Normal
Heroic

Passive
Decks
[
]
The below classes are listed purely for reference, and have no effect on the boss' use of the cards during the battle.
Strategy
[
]
This hero can pose a minor threat to those unprepared. For Normal, the lack of early spells can let you use powerful minions to quickly take control. If playing Reno, using Stolen Titan Secrets here and playing a spell deck can prove powerful. The Hero Power is Flamewaker's ability. The easiest way to beat her on Heroic is to spam at the start, easily winning if Ermavar does not have Cinderstorm or Flame Ward. If she plays a Secret, it can only be Flame Ward. Afterwards, try using powerful minions to shut down the game. The main threat here would be Fireball.
Going face generally lets you win easily.
Dialogue
[
]
Introduction
Ermavar

Come closer to the fire, explorer...
Reno Jackson

A fire mage, eh? Well maybe I could... show you some moves.
Elise Starseeker

Where is your so-called pharaoh, Tekahn?
Emote Response
Ermavar

Soon, you will be nothing but ash.
Hero Power
Ermavar

Burnnnn.
Feel the heat.
The flames like you.
To ashes.
Idle
Ermavar

All will be consumed in the dark pharaoh's flame.
Fireshaping is far better than ice sculpting.
Flesh burns, but stone only warms in the fire.
Boss cards
Fire Fly

Shaping this little one...

Flamewaker

I like this one's style.

Flamestrike

I'll burn you all.
Player's cards
Pharaoh Cat

This... is awkward.

Fireball

Nice try.
Death
Ermavar

(yell)
Defeat
Ermavar

Did you really think you could interfere without getting burned?
Lore
[
]
Ermavar is original to Hearthstone.
Gallery
[
]
Patch changes
[
]
Tombs of Terror
Heroes
Chapter 1:
The Lost City

| | |
| --- | --- |
| Level 1 | |
| Level 2 | |
| Level 3 | |
| Level 4 | |
| Level 5 | |
| Level 6 | |
| Level 7 | |
| Level 8 | |

Chapter 2:
Scorching Dunes

| | |
| --- | --- |
| Level 1 | |
| Level 2 | |
| Level 3 | |
| Level 4 | |
| Level 5 | |
| Level 6 | |
| Level 7 | |
| Level 8 | |

Chapter 3:
Khartut's Tomb

| | |
| --- | --- |
| Level 1 | |
| Level 2 | |
| Level 3 | |
| Level 4 | |
| Level 5 | |
| Level 6 | |
| Level 7 | |
| Level 8 | |

Chapter 4:
Halls of Origination

| | |
| --- | --- |
| Level 1 | |
| Level 2 | |
| Level 3 | |
| Level 4 | |
| Level 5 | |
| Level 6 | |
| Level 7 | |
| Level 8 | |

Chapter 5:
The Inner Sanctum
Tavern