Encumbered Pack Mule
Regular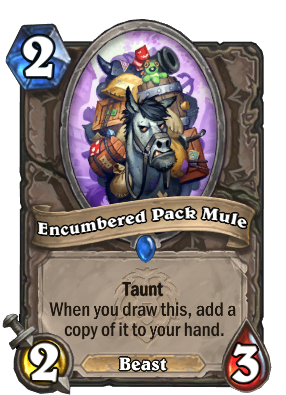 Gold
Taunt
When you draw this, add a  copy of it to your hand.
Flavor text
"Now I can pick up EVERY knick-knack."
External links
Encumbered Pack Mule is a rare neutral minion card, from the United in Stormwind set.
How to get
[
]
Golden Encumbered Pack Mule is uncraftable and cannot be crafted or disenchanted. Regular Encumbered Pack Mule can be obtained by:
Others
Two copies of golden Encumbered Pack Mule are obtained by reaching levels 23 and 38 respectively in the United in Stormwind's Rewards Track.
Notes
[
]
Encumbered Pack Mule's copy effect triggers before on-draw effects such as Scavenger's Ingenuity's buff or the mana cost increase on Far Watch Post. However, effects applied before the draw like Dire Frenzy's buff apply to both the drawn Pack Mule and the copy.
Strategy
[
]
Encumbered Pack Mule provides two copies in a price of one when drawn from the deck. It should be note that if left in Mulligan Hand, it's effect won't work so it should always be not kept in the starting hand.
It has plenty of synergies since Encumbered Pack Mule provides 2 cards into your hand instead of the usual 1 allowing to get better result with hand-based effects such as Mountain Giant, Abyssal Summoner, Goldshire Knoll, Package Runner, Anetheron, Entitled Customer.
It is similar to Saronite Chain Gang but allowing you the ability to play half of a Saronite Chain Gang for two mana. This mean the player can play one of the two Encumbered Pack Mule on curve while playing the other later.
Encumbered Pack Mule benefits from double the value from Hand Buff effects from Smuggler's Run, Alliance Bannerman, or Grimstreet Outfitter. Because it is also a Beast, it can be benefitted by Don't feed the Animals and gaining charge from Tundra Rhino
Sounds
[
]
Summon
Attack
Death
Achievements
[
]
There are 3 achievements related to Encumbered Pack Mule.
Gallery
[
]
Patch changes
[
]
References
[
]