Electra Stormsurge
Regular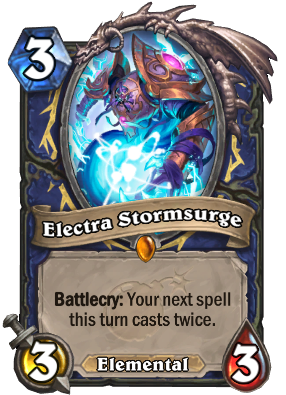 Gold
Battlecry:
Your next spell this turn casts twice.
Flavor text
"The coin? You used me for THE COIN!?"
External links
For the boss of the same name, see Electra Stormsurge (boss).
Electra Stormsurge is a legendary shaman minion card, from The Boomsday Project set.
How to get
[
]
Electra Stormsurge can be obtained through The Boomsday Project card packs, or through crafting.
| Card | Crafting cost | Disenchanting |
| --- | --- | --- |
| Electra Stormsurge | 1600 | 400 |
| Golden Electra Stormsurge | 3200 | 1600 |
Notes
[
]
Strategy
[
]
While understatted, Electra's effect makes her a useful addition to any deck. Aggro decks can use a double Bloodlust to push for lethal, while control decks can use cards like Volcano and Lightning Storm to clear the board (at the expense of heavy Overload) or Healing Rain for a huge burst of healing. In a less orthodox strategy, she can also be used with Eureka! to cheat out two copies of Malygos, letting you follow up with a heavy burst of spell damage. Being an Elemental, Electra also has synergy with cards like Kalimos, Primal Lord and Earthen Might.
Note that the duplicated spell is treated as being cast by Electra and not the player, meaning that it will not be affected by Omega Mind.
As the flavor text suggests, casting The Coin immediately after playing Electra is a waste of the effect in most cases.
Quotes
[
]
Summon
Attack
Death
Lore
[
]
Electra is unique to Hearthstone.
*** BEGIN ELECTRA STORMSURGE TRANSCRIPT ***
Recording Mech Unit: Microbot ZAP-R
POWER! HAHAHA! MORE POWER! EXTEND THE NETHER CONDUCTOR CORES, I NEED MORE—
::microbot ZAP-R loud beeping::
Oh, hello. I mist seeing you there. Sometimes I don't know how to conduct myself! Ha!
::microbot ZAP-R query::
Another progress report? Don't pressure me, mech. I have important work to do. Boom should be satisfied that I'm providing power to this entire facility! This microbot-management is really raining on my parade.
::microbot ZAP-R insistent query::
Ohm, fine. No more resistance. As head meteorologist at Boom Labs, I'm proud to report that the Netherstorm is still there, filling the entire sky, and cascading countless bolts of delicious nether lightning at everything in sight. But I wasn't sure how to channel all that lightning into a usable energy source. Then it STRUCK ME! Get it? STRUCK!?
::microbot ZAP-R pained warble::
I've trained these smaller elementals to guide the bolts into the nether coil collectors where I condense the raw energy and process it. Now we can collect the vast energy of the Netherstorm here, in my weather station slash power plant slash sweet bachelorette pad slash laboratory at the highest point of Boom Labs!
The Netherstorm isn't just a power source. Nether radiation has some pretty interesting side-effects too. It significantly amplifies arcane outputs, and, at high enough levels of exposure, can even over-charge normal creatures. Permanently! Well, it would if they survived the initial blast, but I'm working on that! I'm thinking EVEN MORE POWER should do the trick. Let me demonstrate!
This Nether Conductor Core is a direct conduit to the raging power of the NETHERSTORM! Want a taste?
::microbot ZAP-R fearful negative::
No? Don't mind if I do. Mmm. Spicy! Effervescent. Notes of burning tin foil and ozone. Oh, THAT WAS GOOD! YEAH! AGAIN?
::microbot ZAP-R anxious boop::
MORE FOR ME THEN! IF IT'S WORTH DOING ONCE, IT'S WORTH DOING TWICE!
Yes. YES! MORE POWER! POWER OVERWHELMING. HA HA HA HA—
::static, electrical crackles, machinery exploding::
::microbot ZAP-R panicked shrieking::
*** END ELECTRA STORMSURGE TRANSCRIPT ***[1]
Trivia
[
]
Gallery
[
]
Patch changes
[
]
References
[
]