Roblox: DeepWoken - The Loop
Play Sound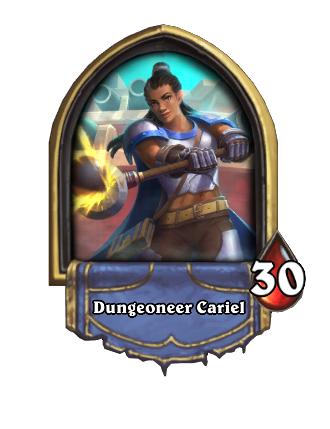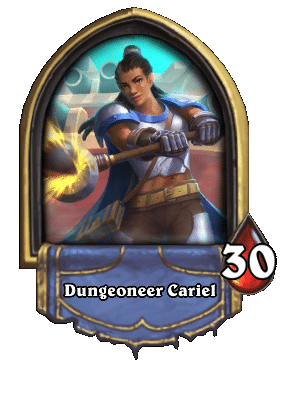 Dungeoneer Cariel is an alternate hero for the paladin class.
How to get
Dungeoneer Cariel is currently available for obtaining.
Auto-detected sources

| Type | Source | Premium | Q. |
| --- | --- | --- | --- |
| Paid Track | Fractured in Alterac Valley Paid Track, level 100 | Regular | 1 |
Functionality
Main article: Alternate heroes
Once unlocked and selected for use, Dungeoneer Cariel replaces Uther Lightbringer whenever the player uses a Paladin deck, as well as:
Comes with own portrait
Has custom emotes
Flavor text
When viewed in the Collection, Dungeoneer Cariel has the following flavor text:
The Defias thought the juggernaut was unstoppable. Then they met Cariel's hammer. Earnable after purchasing the Tavern Pass.
Sounds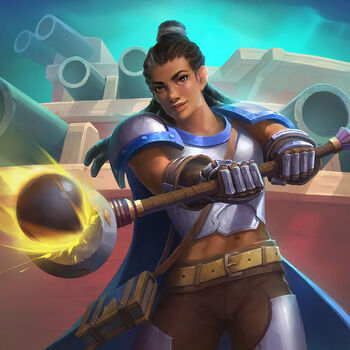 | Type | Transcript |
| --- | --- |
| Trigger: Consecration | Link▶️I purify my enemies! |
| Trigger: Conviction | Link▶️Stand with me! |
| Trigger: Equality | Link▶️All are equal under the light. |
| Trigger: Noble Mount | Link▶️Saddle up! |
| Trigger: Rise to the Occasion | Link▶️Stormwind must not fall! |
| Attack [1] | Link▶️I strike! |
| Death [1] | Link▶️ |
| Emote: Greetings | Link▶️Looking for a group? |
| Emote: Well Played | Link▶️I salute you. |
| Emote: Oops | Link▶️Yikes. |
| Emote: Threaten | Link▶️You will stand trial in Stormwind! |
| Emote: Thanks | Link▶️Thanks, I owe you one. |
| Unused: Sorry | Link▶️That's too bad. |
| Concede | Link▶️I must concede. |
| Start | Link▶️I stand for for friends of the Light! |
| Running out of time | Link▶️I'm running out of time. |
| Thinking [1] | Link▶️Light guide my patience. |
| Thinking [2] | Link▶️The answer is here. |
| Thinking [3] | Link▶️Hmm... |
| Almost out of cards | Link▶️I'm almost out of cards. |
| Out of cards | Link▶️I'm out of cards! |
| Error: Need a weapon | Link▶️Put a weapon in my hand. |
| Error: Not enough mana | Link▶️I need more mana. |
| Error: Minion exhausted | Link▶️That minion already attacked! |
| Error: Hero already attacked | Link▶️I already attacked. |
| Error: Minion not ready | Link▶️Give that minion a turn to get ready. |
| Error: Hand already full | Link▶️My hand is too full! |
| Error: Can't target Stealthed minion | Link▶️I cannot target a minion with Stealth. |
| Error: Can't play that card | Link▶️I can't play that. |
| Error: Not a valid target | Link▶️That is not a valid target. |
| Error: Must attack Taunt minion | Link▶️A minion with Taunt is in the way. |
| Selection in Choose Your Hero | Link▶️Those who seek to destroy the Alliance must be stopped! |
| Emote: Greetings [Happy New Year] | Link▶️Happy New Year! |
| Start [Mirror] | Link▶️Let the darkness flee. |
| Emote: Greetings [Holidays] | Link▶️Happy Holidays. |
| Emote: Wow | Link▶️Glorious! |
| Emote: Greetings [Fire Festival] | Link▶️Happy New Year! |
| Unused: Greetings [Pirate Day] | Link▶️It's the Fire Festival! Burn, baby, burn. |
| Emote: Greetings [Happy Halloween] | Link▶️Arright, let's smite those scallywags! |
| Unused: Greetings [Happy Noblegarden] | Link▶️Happy Hallow's End! |
| Emote: Greetings [Mirror] | Link▶️Happy Noblegarden! |
| Error: Too many minions | Link▶️Sure, I'll fill in. |
| Error: Generic | Link▶️There's no room for that minion. |
| | Link▶️Impossible. |
| Start [Tamsin] | Link▶️What happened to you, Tamsin? |
Patch changes