Roblox: DeepWoken - The Loop
Play Sound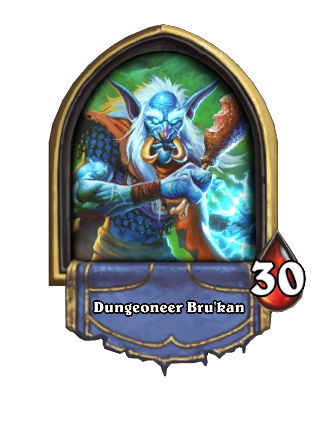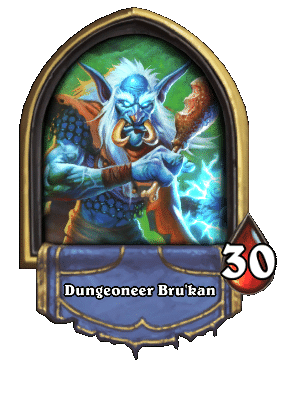 Dungeoneer Bru'kan is an alternate hero for the shaman class.
How to get
Dungeoneer Bru'kan is currently available for obtaining.
Auto-detected sources

| Type | Source | Premium | Q. |
| --- | --- | --- | --- |
| Paid Track | Fractured in Alterac Valley Paid Track, level 45 | Regular | 1 |
Functionality
Main article: Alternate heroes
Once unlocked and selected for use, Dungeoneer Bru'kan replaces Thrall whenever the player uses a Shaman deck, as well as:
Comes with own portrait
Has custom emotes
Flavor text
When viewed in the Collection, Dungeoneer Bru'kan has the following flavor text:
Sometimes the beasts of Wailing Caverns are rude enough to interrupt your lunch. Earnable after purchasing the Tavern Pass.
Sounds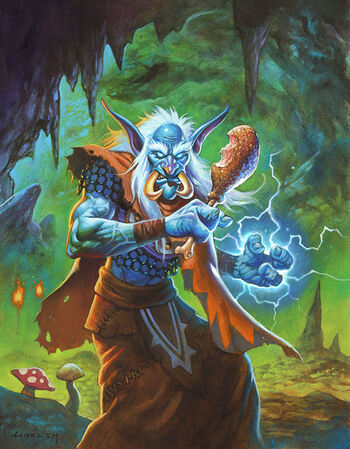 | Type | Transcript |
| --- | --- |
| Trigger: Chain Lightning | Link▶️Call the lightning! |
| Trigger: Hex | Link▶️How about a makeover? |
| Trigger: Snowball Fight! | Link▶️Think fast! |
| Trigger: Tidal Surge | Link▶️Splish splash! |
| Attack [1] | Link▶️<Attack exertion> |
| Death [1] | Link▶️ |
| Emote: Greetings | Link▶️Hello! You hungry? |
| Emote: Well Played | Link▶️Let nature rest. |
| Emote: Oops | Link▶️Pity. |
| Emote: Threaten | Link▶️Do not make me call the lightning. |
| Emote: Thanks | Link▶️You're a good one. |
| Unused: Sorry | Link▶️You want an apology? Get back up! |
| Concede | Link▶️That's enough. Time to eat. |
| Start | Link▶️What lurks beyond the firelight? |
| Running out of time | Link▶️I'm coming, I'm coming. |
| Thinking [1] | Link▶️So many choices... |
| Thinking [2] | Link▶️If only I had some warm soup. |
| Thinking [3] | Link▶️Hmm... |
| Almost out of cards | Link▶️I am almost out of cards. |
| Out of cards | Link▶️No more cards. |
| Error: Need a weapon | Link▶️Bru'kan be needing a weapon. |
| Error: Not enough mana | Link▶️I need more mana for that. |
| Error: Minion exhausted | Link▶️That minion already attacked. |
| Error: Hero already attacked | Link▶️How many times you want me to hit? |
| Error: Minion not ready | Link▶️You know that minion can't attack yet. |
| Error: Hand already full | Link▶️There's no more room for cards in my hands! |
| Error: Can't target Stealthed minion | Link▶️I can't target a stealthed minion. |
| Error: Can't play that card | Link▶️I cannot play that. |
| Error: Not a valid target | Link▶️Not that target. It's illegal! |
| Error: Must attack Taunt minion | Link▶️I must attack the minion with Taunt. |
| Error: Generic | Link▶️Stop that! |
| Selection in Choose Your Hero | Link▶️The corrupted shards have twisted nature. We must enter the Wailing Caverns and correct it. |
| Start [Mirror] | Link▶️No clue! Can I finish eating first? |
| Emote: Greetings [Holidays] | Link▶️Happy Holidays. |
| Emote: Wow | Link▶️Profound! |
| Emote: Greetings [Happy New Year] | Link▶️Happy New Year! |
| Emote: Greetings [Fire Festival] | Link▶️Happy Fire Festival! Fire's good for cooking, eyah? |
| Unused: Greetings [Pirate Day] | Link▶️Happy Pirate Day! I've been stranded on an island or two in my time. |
| Emote: Greetings [Happy Halloween] | Link▶️Happy Hallow's End! |
| Unused: Greetings [Happy Noblegarden] | Link▶️Happy Noblegarden! |
| Emote: Greetings [Mirror] | Link▶️Famished! |
| Error: Too many minions | Link▶️I have too many minions. |
| Start [Rokara] | Link▶️I am proud of what you have become, Rokara. |
Patch changes