Dragonrider Talritha
Regular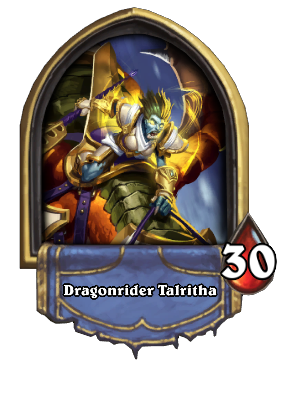 External links
For the minion card, see Dragonrider Talritha. For the playable hero, see Dragonrider Talritha (hero).
Dragonrider Talritha is a boss encounter in Galakrond's Awakening adventure. It is the first encounter of Chapter 3 of E.V.I.L. campaign: Air Battle Over Dragonblight.
The boss for this encounter is Dragonrider Talritha, while the hero the player controls in Story mode is Waxadred.
Boss Hero Power
[
]
Story
Heroic

Passive
Boss special cards
[
]
Boss decks
[
]
The below classes are listed purely for reference, and have no effect on the boss' use of the cards during the battle.
Story mode
[
]
Player's hero
[
]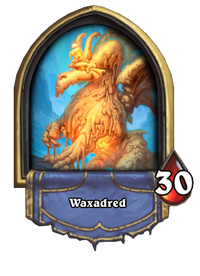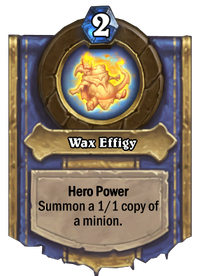 Player's decks
[
]
Notes
[
]
Heroic mode
Strategy
[
]

Please add any available information to this section.
Rewards
[
]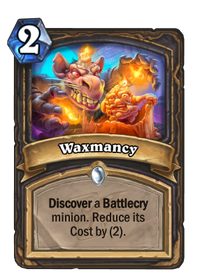 Dialogue
[
]
Story mode
[
]
Before encounter
Rafaam

I just need… more time… Everyone! To the skies!
Introduction
Waxadred

I have been told to protect this city.
Player's Hero Power
Waxadred

Another one of those…
I could use that.
Another!
Player's Candle Breath
Waxadred

Aaaaaaaaa
A- Achoo!
Dragonrider Talritha
[
]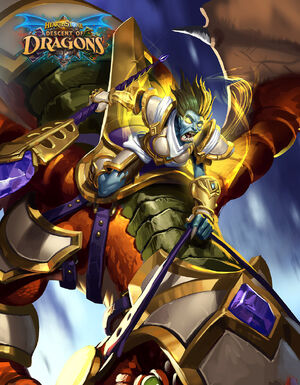 Introduction
Monster! I will tear you from the sky!
Hero Power
You will be avenged!
Where one falls, others will rise…
The spirit lives on!
Emote Response
You are no true dragon!
Idle
Now THIS is a fight!
Dragons on every side of me…
I haven't felt this alive since… I was alive!
Attacking
DIVE!
In death there is power…
We will not be broken.
Death
(yells)
Waxadred
[
]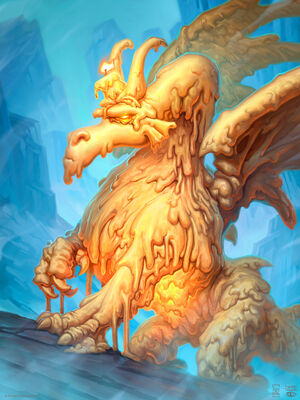 | Type | Emote |
| --- | --- |
| Thanks | Mmmmthank you. |
| Well Played | Acceptable. |
| Greetings | Mmmmhelllo. |
| Wow | Ahhh- hmmm! |
| Oops | Oh. Oops. |
| Threaten | Give your treasures to me! |
| Attack | <Attack> |
| Concede | My fire… burns out. |
| Death | I'm… melting! |
| Thinking [1] | Hmmmm. |
| Thinking [2] | Yesss… |
| Thinking [3] | Must consider... |
| Running out of time | Need to move... |
| Almost out of cards | Low on cards. |
| Out of cards | Out of cards! Hmmm… |
| Error: Generic | I cannot do that. |
Patch changes
[
]