Dragon's Pack
Dragon's Pack
Summon two 2/3 Spirit Wolves with Taunt. If you've Invoked twice, give them +3/+3.
Each dragon's pack is guaranteed to have at least one rare.
See this card on PlayHearthstone
Dragon's Pack is an epic shaman spell card, from the Descent of Dragons set.
Dragon's Pack can be obtained through Descent of Dragons card packs, or through crafting.
| Card | Crafting cost | Disenchanting |
| --- | --- | --- |
| Dragon's Pack | 400 | 100 |
| Golden Dragon's Pack | 1600 | 400 |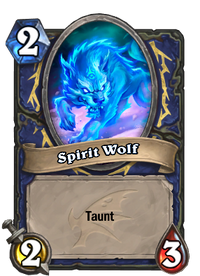 Uninvoked, Dragon's Pack is mediocre value due to its high cost, comparing unfavorably to Feral Spirit and Saronite Chain Gang. However, with 2 Invokes, Dragon's Pack becomes an incredibly efficient Taunt that resists board clears and single-target removal. If not dealt with, the Spirit Wolves can threaten 10 damage on the following turn, making them solid for board pressure as well.