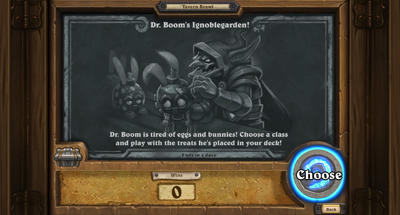 "Dr. Boom is tired of eggs and bunnies! Choose a class and play with the treats he's placed in your deck!"
Dr. Boom's Ignoblegarden! is a Tavern Brawl. It debuted on April 17, 2019. For exact times, see the schedule.
History
[
]
| Tavern Brawl | Start | End | Notes |
| --- | --- | --- | --- |
| 201 | April 17, 2019 | April 22, 2019 | |
| 253 | April 15, 2020 | April 22, 2020 | Demon Hunter could not be chosen. |
Overview
[
]
This Tavern Brawl sees players doing battle with random decks that has special Boom Bot cards in it. Each player starts the game with a Noblegarden Egg in play that hatches into a Boom Bot.
Special cards
[
]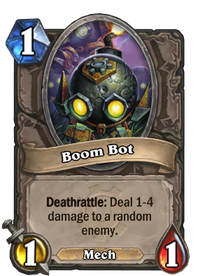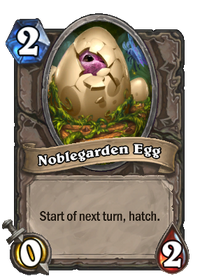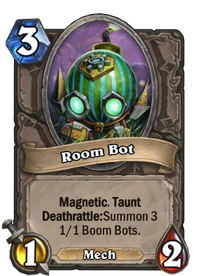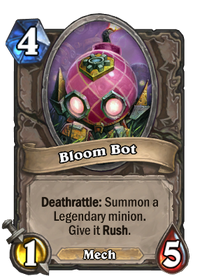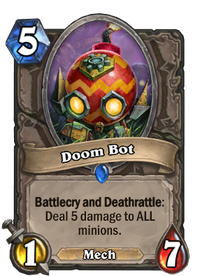 Notes
[
]
Decks contain three of each special Boom Bot. Two copies are naturally in the deck, and a third copy is generated and drawn on turns 3, 4, and 5.

The generated bots don't always correlate to your mana, so you can get any of the three on each of those turns.
Cards like Embiggen and Wyrmrest Purifier will not affect the generated Boom Bots, since they weren't in the deck at the time of casting. Princess Talanji will summon them from your hand.
Strategy
[
]
This brawl is fairly random, so there's not much strategy. Warrior may be a preferable class, since they have lots of good Mech cards to synergize with the Boom Bots. Classes with pinging hero powers can also be helpful for dealing with the Boom Bot that begins in play at the start of the game.
| | Tavern Brawls |
| --- | --- |
| Constructed | |
| Randomized | |
| Premade | |
| Brawliseum | |
| Cooperative | |
| Single-player | |
| Fireside Brawls | |