Dovo Fastfuse
Regular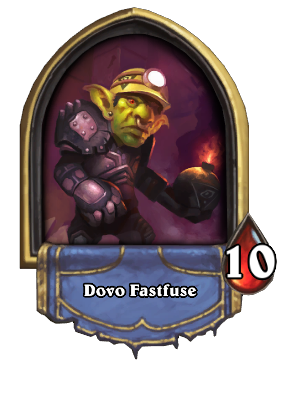 Gold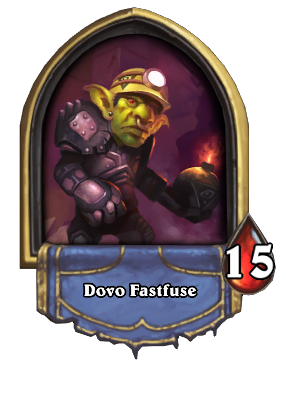 Flavor text
Dovo's excavation methods put the "boom" in "tomb".
External links
Dovo Fastfuse is a boss that can be encountered initially in Chapter 3 of Tombs of Terror. After completing Chapter 3, this boss encounter will be available in any completed chapter.
Hero Powers
[
]
Normal
Heroic
Decks
[
]
The below classes are listed purely for reference, and have no effect on the boss' use of the cards during the battle.
Strategy
[
]

Please add any available information to this section.
Dialogue
[
]
Introduction
Dovo Fastfuse

Hey! I found those Explorers! Get 'em!
So I failed the test… I never wanted to be an Explorer ANYWAY! (vs. Brann Bronzebeard)
Oh... Fastfuse. Brann warned me about you.
Emote Response
Dovo Fastfuse

Quiet, quiet, quiet! I'm preppin' some bombs over here!
Hero Power
Dovo Fastfuse

A bit of goblin boom boom is all ya need.
Boom boom boooooom!
I was born for this! No, seriously, my name is Fastfuse!
Ka-booom!
Why leave it up to a plague when you can use BOMBS?
Idle
Dovo Fastfuse

Brann "High-and-Mighty" Bronzebeard. Rejected me for using BOMBS in tombs.
Can you believe that? What is wrong with bombs?
Maybe he singed that big beard of his over here…
Boss cards
Dovo Fastfuse

Goblin Bomb

This one's standard issue!

Lackey card

You there! Lackey! Hold some bombs for me!

Clockwork Goblin

These little guys are great! Wind 'em up and let 'em boom!
Player's cards
Dovo Fastfuse

Jr. card

Stay away from the booms, little explorers!

Plague card

I thought you were here to STOP the plagues!

Shuffling Bomb

Did the League of Explorers lift their ban on bombs?!
Death
Dovo Fastfuse

Gah! My fuse is out!
Defeat
Dovo Fastfuse

You were never gonna stack up to E.V.I.L.
Lore
[
]
Dovo Fastfuse is unique to Hearthstone. He is a member of League of E.V.I.L.
Gallery
[
]
Patch changes
[
]
Tombs of Terror
Heroes
Chapter 1:
The Lost City

| | |
| --- | --- |
| Level 1 | |
| Level 2 | |
| Level 3 | |
| Level 4 | |
| Level 5 | |
| Level 6 | |
| Level 7 | |
| Level 8 | |

Chapter 2:
Scorching Dunes

| | |
| --- | --- |
| Level 1 | |
| Level 2 | |
| Level 3 | |
| Level 4 | |
| Level 5 | |
| Level 6 | |
| Level 7 | |
| Level 8 | |

Chapter 3:
Khartut's Tomb

| | |
| --- | --- |
| Level 1 | |
| Level 2 | |
| Level 3 | |
| Level 4 | |
| Level 5 | |
| Level 6 | |
| Level 7 | |
| Level 8 | |

Chapter 4:
Halls of Origination

| | |
| --- | --- |
| Level 1 | |
| Level 2 | |
| Level 3 | |
| Level 4 | |
| Level 5 | |
| Level 6 | |
| Level 7 | |
| Level 8 | |

Chapter 5:
The Inner Sanctum
Tavern