Dispel
Regular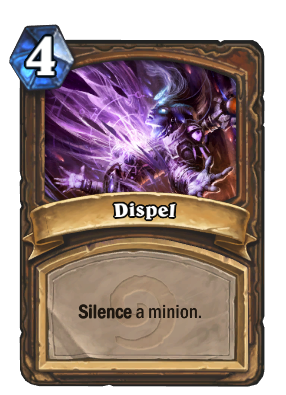 Gold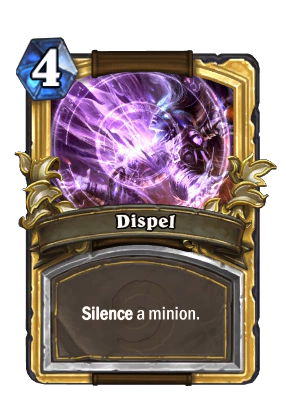 Silence
a minion.
External links
Dispel is a choice card produced by Keeper of the Grove's Choose One effect. It Silences a minion.
For more information, see Keeper of the Grove.
Other versions
[
]
Cargo Query Error: A database query error has occurred. Did you forget to run your application's database schema updater after upgrading?
Query: SELECT CONCAT("font-weight:bold") AS `header-style`,CONCAT("Card set returns") AS `header-template`,CONCAT(sets__full) AS `header`,CONCAT("ingameName") AS `header-return`,`image` AS `image`,`_pageName` AS `link` FROM `cargo__Cards` WHERE data_page="Data:Cards/" OR data_page="" ORDER BY CONCAT("font-weight:bold"),CONCAT("Card set returns"),CONCAT(sets__full),CONCAT("ingameName"),`image` LIMIT 1 Function: CargoSQLQuery::run Error: 1054 Unknown column 'sets__full' in 'field list' (geo-db-i-master.query.consul.) Cargo Query Error: A database query error has occurred. Did you forget to run your application's database schema updater after upgrading? Query: SELECT CONCAT("font-weight:bold") AS `header-style`,CONCAT("Card set returns") AS `header-template`,CONCAT(sets__full) AS `header`,CONCAT("ingameName") AS `header-return`,`image` AS `image`,`_pageName` AS `link` FROM `cargo__Cards` WHERE data_page="Data:Cards/" OR data_page="" ORDER BY CONCAT("font-weight:bold"),CONCAT("Card set returns"),CONCAT(sets__full),CONCAT("ingameName"),`image` LIMIT 1 Function: CargoSQLQuery::run Error: 1054 Unknown column 'sets__full' in 'field list' (geo-db-i-master.query.consul.) Cargo Query Error: A database query error has occurred. Did you forget to run your application's database schema updater after upgrading? Query: SELECT CONCAT("font-weight:bold") AS `header-style`,CONCAT("Card set returns") AS `header-template`,CONCAT(sets__full) AS `header`,CONCAT("ingameName") AS `header-return`,`image` AS `image`,`_pageName` AS `link` FROM `cargo__Cards` WHERE data_page="Data:Cards/Dispel(464688)" OR data_page="Dispel(464688)" ORDER BY CONCAT("font-weight:bold"),CONCAT("Card set returns"),CONCAT(sets__full),CONCAT("ingameName"),`image` LIMIT 1 Function: CargoSQLQuery::run Error: 1054 Unknown column 'sets__full' in 'field list' (geo-db-i-master.query.consul.)
Chosen from
[
]
Trivia
[
]
Gallery
[
]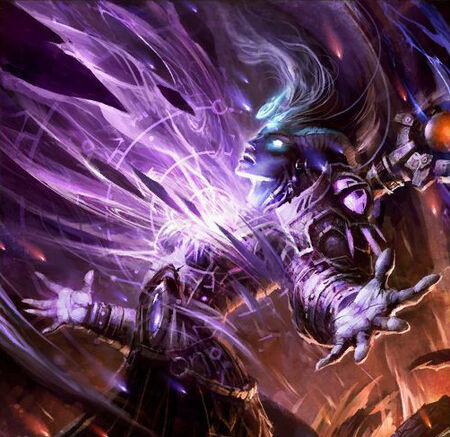 Patch changes
[
]
References
[
]