Disidra Stormglory
Regular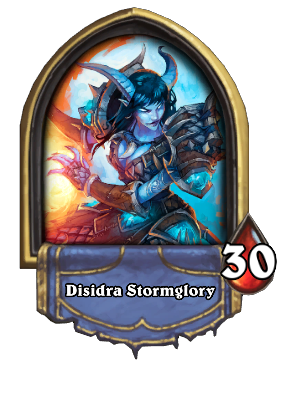 Gold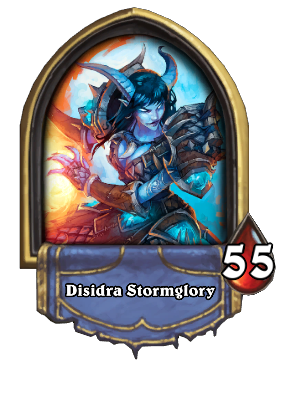 Flavor text
Terribly tenacious. Truly thaumaturgic. Totally totemic.
External links
Disidra Stormglory is a boss that can be encountered in The Dalaran Heist adventure.
Hero Power
[
]
Normal
Heroic

Auto-cast
Decks
[
]
The below classes are listed purely for reference, and have no effect on the boss' use of the cards during the battle.
These decks correspond only to level 6 in Chapter 5. If this boss is encountered on levels 4-5, her deck will be missing 5 random cards.
Strategy
[
]
Disidra gimmick revolves around totems. It is best to take care of them so they down synergies.
Dialogue
[
]
Introduction
Disidra Stormglory

The elements can be harnessed in many ways. I choose the mighty totem.
You taint the elements, Sethrak. (vs. Vessina)
Don't gnaw on my totems! (vs. Ol' Barkeye)
Emote Response
Disidra Stormglory

You cannot intimidate me.
Hero Power
Disidra Stormglory

Elements, guide me.
Where did I leave that totem...?
Which one did I want again?
Idle
Disidra Stormglory

Give me a second to whittle a new one.
You ever tripped over a totem? Horribly embarrassing...
You know painting these up is so time consuming.
Boss cards
Disidra Stormglory

Totemic Might

Our strength cannot be seen!

Windshear Stormcaller

Small things grow into greatness!
Player's cards
Disidra Stormglory

Primal Talismans

How original.

Totem Cruncher

What a monstrous beast.
Death
Disidra Stormglory

(yell)
Defeat
Disidra Stormglory

So this is how you find peace.
Lore
[
]
Disidra Stormglory is draenei adventurer roaming around Dalaran.
Gallery
[
]
Patch changes
[
]
The Dalaran Heist
Heroes
Chapter 1: Dalaran Bank

| | |
| --- | --- |
| Level 1 | |
| Level 2 | |
| Level 3 | |
| Level 4 | |
| Level 5 | |
| Level 6 | |
| Level 7 | |
| Level 8 | |

Chapter 2: The Violet Hold

| | |
| --- | --- |
| Level 1 | |
| Level 2 | |
| Level 3 | |
| Level 4 | |
| Level 5 | |
| Level 6 | |
| Level 7 | |
| Level 8 | |

Chapter 3: Streets of Dalaran

| | |
| --- | --- |
| Level 1 | |
| Level 2 | |
| Level 3 | |
| Level 4 | |
| Level 5 | |
| Level 6 | |
| Level 7 | |
| Level 8 | |

Chapter 4: The Underbelly

| | |
| --- | --- |
| Level 1 | |
| Level 2 | |
| Level 3 | |
| Level 4 | |
| Level 5 | |
| Level 6 | |
| Level 7 | |
| Level 8 | |

Chapter 5: Kirin Tor Citadel

| | |
| --- | --- |
| Level 1 | |
| Level 2 | |
| Level 3 | |
| Level 4 | |
| Level 5 | |
| Level 6 | |
| Level 7 | |
| Level 8 | |
| Level 9 | |
| Level 10 | |
| Level 11 | |
| Level 12 | |

Tavern