Fire Emblem Warriors: Three Hopes - The Loop
Play Sound
"Is this the end? Our heroes can't fly. They fall like shooting stars. Will anyone survive? (DRAGONS! DRAGONS!) Dragons take flight above the ice and snow, high in the sky where the cold wind blows, wings beat down as they beat back foes, flaming-hot fire over frozen bones! Good unites against evil they oppose, they ride and die as the legends grow! We must all choose sides, villains or heroes. There are no sidelines in this combat zone! Feats midair, yeah it's a chiller. Life or death, yeah it's a killer. They go round and round as the beatdown pounds, aerial thrills, yeah it's a thriller! Skies fill with trauma in all of this drama, portending an impending end! Crash down! It's dragons in dragons' descent!"
Descent of Dragons is Hearthstone's thirteenth expansion. Featuring 140 new collectible cards, it was released on December 10th, 2019.
Following the League of E.V.I.L.'s attack on Uldum, which was thwarted by the League of Explorers, the two teams head to Dragonblight, where the League of E.V.I.L. is plotting to resurrect the proto-dragon Galakrond in an attempt to bend him to their will. Once again,
Elise Starseeker,
Reno Jackson,
Brann Bronzebeard and
Sir Finley Mrrgglton must do battle with the villains and put an end to their heinous scheme once and for all.
This expansion introduces the new keyword Invoke and Sidequest, and powerful Galakrond hero cards.
How to get
[
]
Descent of Dragons craftable cards can be obtained by one of the following methods:
Opening card packs with the usual prices and purchasing options
Uncraftable cards
These specific cards can be obtained through other means. For more information, see individual articles.
Uncraftable
These cards are uncraftable, but can be obtained by other ways.
Pre-order
Prior to the expansion's release, players are able to purchase one or both of the following bundles:
Cards
[
]
This expansion features 140 collectible cards. Descent of Dragons cards can be recognized with a special watermark (a dragon's wing) behind the card text, not found on other cards.
Neutral
Druid
Hunter
Mage
Paladin
Priest
Rogue
Shaman
Warlock
Warrior
Themes
[
]
Flying minions
[
]
To reinforce the theme of aerial combat in the skies of Dragonblight, many minions in this set are flying creatures or machines, or people riding them. Apart from the titular dragons, examples include:
Galakrond
[
]
All five members of the League of E.V.I.L. can summon a unique version of Galakrond, the mightiest dragon in Azeroth's history. Utter the precursor dragon's name with the new Invoke keyword to upgrade his Hero card and amplify his strength.[1]
Sidequests
[
]
Smaller Quests that can be completed for a reward, but don't start in your opening hand.
Legendary Dragons
[
]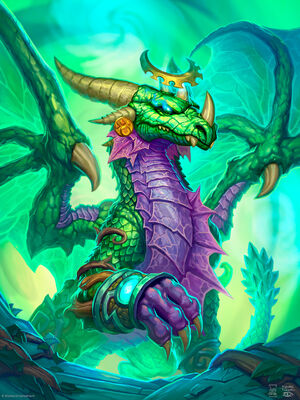 By Muradin's Beard, that's a lot of dragons!
Dragon Breath
[
]
Unleash draconic fury with breath cards that become more powerful while holding a Dragon.
Dragon Explorers
[
]
The four classes representing the League of Explorers get relatively cheap Dragons that discover other Dragons.
Galakrond's Awakening
[
]
Main article: Galakrond's Awakening
Heroes and villains clash in the skies above Dragonblight in this epic two-sided story-driven adventure. [2]
Galakrond's Awakening is the single-player content for Descent of Dragons. Unlike previous entries, Galakrond's Awakening is a standalone Adventure that features new 35 collectible cards. It was released January 21st, 2020.
[

]
On February 28th, 2019, Blizzard announced the changes and new content planned for the Year of the Dragon, the fourth year of standard format. The accompanying video included a teaser image for the planned three expansions of the year, with the third expansion being denoted with a glowing orange object and scorched wood.[3]
On October 28th, Blizzard released a short teaser video in which Madame Lazul—dressed in winter clothing—discusses the possibility of two different endings to the standard year's final expansion, with the ultimate victor being "chosen by you". All the while, Lazul's crystal ball shows a glimpse of the frozen wastes of the Dragonblight in Northrend, with Galakrond's Rest, Wyrmrest Temple, and the League of E.V.I.L.'s headquarters of Dalaran all prominently visible.
The expansion was officially unveiled on November 1st at Blizzcon 2019.
Gallery
[
]
Concept art
References
[
]