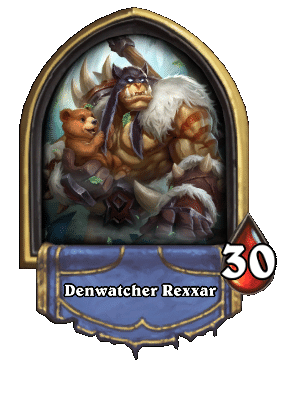 Denwatcher Rexxar is a hero skin for the hunter class.
How to get
Denwatcher Rexxar is currently unavailable for obtaining.
Flavor text
When viewed in the Collection, Denwatcher Rexxar has the following flavor text:
When Misha can't be there, uncle Rexxar is the next best thing. Obtained by purchasing the Hatch and Watch bundle.
Sounds
| Type | Transcript |
| --- | --- |
| Attack [1] | Link▶️Keep it down! |
| Death [1] | Link▶️ |
| Selection in Choose Your Hero | Link▶️I watch over the dens… it is a very adorable charge. |
Patch changes
Playable heroes
Alternate heroes

Expansion pre-order heroes

Elise

Hamuul

Kel'Thuzad

Katrana

Azshara

Lazul

Rastakhan

Vashj

Jaraxxus

Deathwing

Vanndar



Denathrius

Bundle purchasable heroes

Aranna

Hazelbark

Xuen

Alleria

Sylvanas

Medivh

Khadgar



Kael'thas


Annoy-O

Leeroy

Finley

Edwin

Garona

Thunder King

Ragnaros

Magni

Alternate portraits

Nightborne



Felfirework


Cherry Blossom

Sea Dryad

Murtotem



Fireflower


Naga



Flameshot


Navigator

Eternal

Admiral



Fire Glaive


Ice Lady

Handmaiden



Torchbearer


Mariner



Vendor


Deepsea

Kaldorei

Murragnaros



Juggler


Little Helper

Diver

Feast



Sparkspinner


Winter

Shipwrecked



Roaster