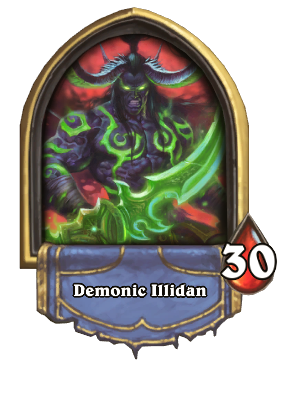 Demonic Illidan is an alternate hero for the

Demon Hunter class. It is obtained by winning 1,000 Ranked, Arena, or Duels games as demon hunter.
Background
[
]
This portrait depicts Illidan Stormrage as he appears after using Metamorphosis and assuming a more powerful demon form, an ability he notably used during his duel with Arthas Menethil and in his boss encounter in the Black Temple.
Flavor text
[
]
When viewed in the collection, Demonic Illidan has the following flavor text:
He uses this trick to enhance his prowess in battle! Or to warn people when he's feeling a bit grumpy. Obtained from winning 1,000 games as demon hunter in Ranked, Arena or Duels.
Emotes
[
]
All 1,000 Win heroes use the same emotes as the basic hero. For a list, see Illidan Stormrage#Emotes.
Gallery
[
]
Patch changes
[
]
References
[
]