"The League of E.V.I.L. is feeling festive! Build a deck to spruce up Dalaran for the holidays (and dispense with those pesky defenders). With the help of an E.V.I.L. henchperson how many decorations can you put up?"

Decorating Dalaran! is a Tavern Brawl. It debuted on December 11th, 2019. For exact times, see the schedule.
Decorating Dalaran is a Winter Veil and Year of the Dragon-themed sequel to the earlier Decorating Stormwind.
History
[
]
| Tavern Brawl | Start | End |
| --- | --- | --- |
| 235 | December 11, 2019 | December 18, 2019 |
Overview
[
]
This brawl revolves around decorating Dalaran in time for Winter Veil for the League of E.V.I.L.. It sees players competing with constructed decks of any class against the computer-controlled hero City of Dalaran. Additionally, players play as one of the characters from The Dalaran Heist, sometimes with a special hero power.
The objective of this Brawl is to inflict at least 30 damage upon the enemy hero before the player's Health is reduced to zero. When the player takes fatal damage, the Brawl ends in victory for the player if at least 30 damage was dealt to the enemy hero, and defeat otherwise. The player can also end the Brawl in victory by dealing 100 damage to the enemy hero. At the end of the Brawl, a scoreboard appears showing the total amount of decorations (damage) inflicted upon the enemy hero and the number of revelers (enemy minions) destroyed.
The City of Dalaran starts the game with the Party Armory weapon equipped, and from turn 2 onward the weapon's Attack is increased by 1 at the start of each turn. If it is destroyed, the weapon will replace itself at the end of the City's turn; the replacement weapon will have its Attack reset to 0, but will gain in Attack more rapidly until it catches up to the value it would have had that turn if it had not been destroyed. Armory is never used by the enemy hero to attack, but grants its Attack value in stats to Ornery Partygoer and Happy Partygoer, leading to ever more powerful minions being summoned as the match progresses. The City of Dalaran's Hero Power Dalaran Defenders is auto-cast, meaning it is used at the start of any turn where the hero has at least 2 mana, immediately after Party Armory gains Attack.
Dalaran's hero power can summon any Partygoer, as well as Arcane Servant, Archmage Vargoth, Proud Defender, Dalaran Crusader, Safeguard, Violet Warden and Exotic Mountseller.
Finally, Rafaam will occasionally drop a Large EVIL Gift on Dalaran's side of the board, which can be destroyed for a Dalaran Heist or Tombs of Terror treasure card.
Special cards
[
]
Boss
[
]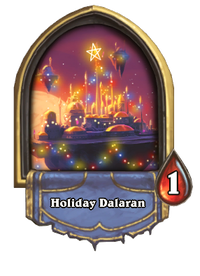 Hero power
[
]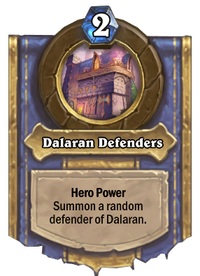 Cards
[
]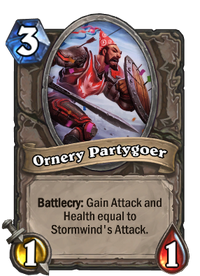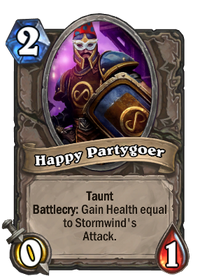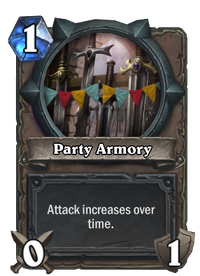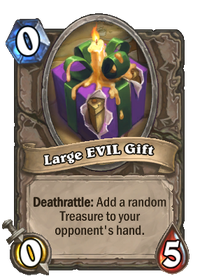 Heroes
[
]
| | Tavern Brawls |
| --- | --- |
| Constructed | |
| Randomized | |
| Premade | |
| Brawliseum | |
| Cooperative | |
| Single-player | |
| Fireside Brawls | |