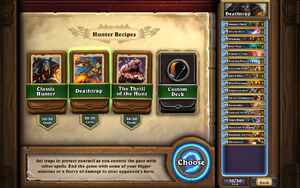 Deck Recipes are a feature introduced in Hearthstone: Heroes of Warcraft to help budding deck-builders get a head-start on quickly crafting a solid deck to play. They're great for both new players who haven't built many decks, and experienced players who don't want to create a deck entirely from scratch.
To access the Deck Recipes, simply go to your Collection Manager via the "My Collection" button, select the "New Deck" option under "My Decks," and pick your class; then you'll see the Deck Recipes on the left-hand side. Three are available for each class, including one classic recipe, and two themed recipes. If you want to quickly jump into a game and need a deck, classic recipes are the way to go. If you're more experienced and want to try something different, themed recipes may provide some inspiration.
Classic recipes
Edit
Each classic recipe consists of only Basic and Classic cards, and provides a good foundation for you to get started on building most traditional decks. Newer players will find that the classic recipe is a great tool to get familiar with the deck-building process, but they can also serve as a handy shortcut for veteran players looking to get a new deck started.
Themed recipes
Edit
Themed recipes revolve around certain card types or mechanics, and generally promote synergy between the cards included in the recipe. These slightly more advanced decks each promote a specific playstyle, and are better suited for more experienced players looking to try something new.
Recipe lists
Edit
Missing cards
Edit
Don't have all of the cards to complete a specific Deck Recipe? No sweat! Simply click on one of the greyed out cards you're missing, and the greatly improved "Suggest a Card" feature will help you replace it with a card from your collection. This should help make it easy to quickly finish a deck, and start playing!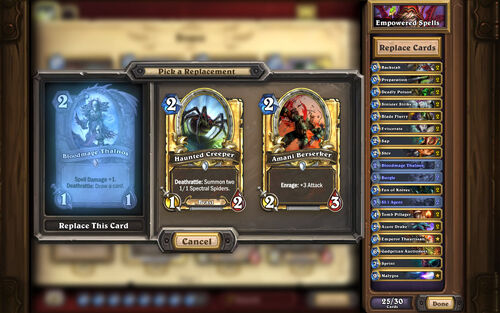 Patch changes
Edit
 (Patch 9.0.0.20457) The Deck Recipe "replace missing cards" UI no longer closes after every card is selected.
 (Patch 5.0.0.12574) Some Deck Recipes have been updated for Whispers of the Old Gods.
External links
Edit