Fire Emblem Warriors: Three Hopes - The Loop
Play Sound
Deathrattle is an ability where the stated effect occurs when the minion or weapon is destroyed. Cards with Deathrattle appear with a skull and crossbones when in play. All classes have access to Deathrattles, but they're more abundant for Hunters then other classes.
Notes
[
]
Minions may benefit from multiple Deathrattles at the same time. As with all abilities, Deathrattle can be removed from minions with Silences.
Deathrattle effects occur after battle damage has been calculated and minions destroyed. Additional effects caused by damaging spells such as

Bane of Doom

will also take place before any Deathrattles.
Like triggered effects, players cannot choose the targets of Deathrattles. While the developers' policy is to explicitly state when a visible target of a Deathrattle is random, this may in some cases be left unstated, in order to simplify the card text.
Sequence of events
[
]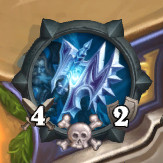 Deathrattles and death-related effects take place after damage has been exchanged and minions/weapons have been destroyed and removed from the board. This prevents Deathrattles from acting upon other minions which were destroyed in the same combat. It also prevents several simultaneous events from acting upon consequences of Deathrattles or other triggered events. The same is true for secrets and triggered effects which are activated from death, such as
Duplicate and
Cult Master, which are treated exactly the same as Deathrattles.
Note that all effects triggered from the death of a minion will play out in the order in which they were put into play, regardless of type of effect.[1] For example, if a mage plays
Duplicate followed by
Abomination, and the Abomination is then destroyed on the opponent's turn, the Duplicate will activate before the Abomination's own Deathrattle; while if the Abomination was played first, its Deathrattle will activate first, followed by the secret.[2][3] Deathrattles do not gain any special priority.
Note also that when multiple minions are killed simultaneously, their deaths will be resolved one at a time, in the order in which they entered play.
Once all destroyed minions have been removed from the board, each death will be resolved, including the activation of any death-related effects - this includes the minion's own Deathrattle, triggered effects such as Cult Master, and Secrets such as Duplicate. Resolution takes place one minion at a time, in order in which the minions entered play. As each death is resolved, all eligible triggered events will play out in the order in which the effect entered play, including the minion's own Deathrattle, Secrets and other effects. Each effect will play out individually and resolve, before the next activates. Once all related effects have played out for the minion, the next simultaneous minion's death will begin to resolve.
For example, if a
Sylvanas Windrunner attacks another Sylvanas Windrunner, destroying both minions, the Deathrattle of the Sylvanas which was summoned first will take place first, followed by the Deathrattle of the Sylvanas which was summoned second. Order of minion summoning can therefore be extremely significant.
For a more thorough explanation of Deathrattles and their interactions with other effects, see the Advanced rulebook.
Cards with Deathrattle
[
]
Collectible
[
]
Swipe left or right to see the cards.
Uncollectible
[
]
Swipe left or right to see the cards.
Sources of Deathrattle
[
]
Deathrattle generating cards
[
]
This section lists cards which generate Deathrattle minions.
Swipe left or right to see the cards.
Deathrattle granting cards
[
]
This section lists cards which grant the Deathrattle ability to other minions or to itself.
Swipe left or right to see the cards.
Related cards
[
]
Swipe left or right to see the cards.
Achievements
[
]
History
[
]
In the build-up to Curse of Naxxramas, the adventure's class cards were revealed to players one by one, many of which featured Deathrattle effects, with text that did not specify that the effects were randomly targeted. This led to widespread confusion over the function of the effects. In a special forum post, Ben Brode explained that by omitting the word 'random', card text could be shortened. By establishing the rule that Deathrattles were never targetable, the developers would not have to explicitly state this on each card, which could eventually allow for the development of more "strategically deep" card effects, due to having more card space in which to describe them, potentially otherwise a limiting factor. Brode stated that "setting expectations now that triggers never allow choices allows us to make cards that otherwise would have too much text",[4] explaining that the omission of explicit statements to this effect "lays the groundwork for shortening the text."[5]
However, in the face of player confusion and preference for random effects to be explicitly described as such, the policy was altered, and the word 'random' added to several Naxxramas cards.
Patch changes
[
]
Patch 20.0.0.77662 (2021-03-25): Fixed a bug where cards that target Deathrattle minions would still work with

Deathwarden

in play.
Patch 1.1.0.6024 (2014-07-22): The order in which Deathrattle abilities resolve has been updated to be more consistent.
References
[
]