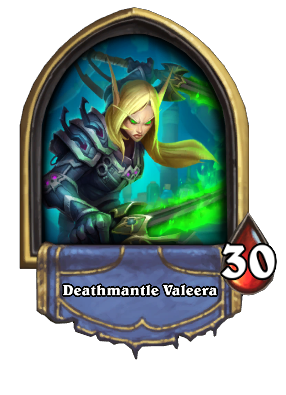 For other appearances of Valeera Sanguinar, see Valeera Sanguinar (disambiguation).
Deathmantle Valeera is an alternate hero for the

Rogue class in Hearthstone.
Background
[
]
Deathmantle Valeera shows Valeera Sanguinar wearing the tier 5 rogue raid set called Deathmantle from World of Warcraft: The Burning Crusade.
How to get
[
]
Deathmantle Valeera can be obtained by completing the Tavern Regular achievement (Gain 200 total levels on Expansion Reward Tracks.).
Functionality
[
]
Once unlocked and selected for use, Deathmantle Valeera replaces Valeera Sanguinar whenever playing with a Rogue deck, as well as:
Comes with her own portrait
Has custom emotes
Flavor text
[
]
When viewed in the collection, Deathmantle Valeera has the following flavor text:
Although rogues are trained in the art of stealth, Valeera's not above getting some extra help from her shadowy armor.
Obtained by completing the Tavern Regular achievement.
Sounds
[
]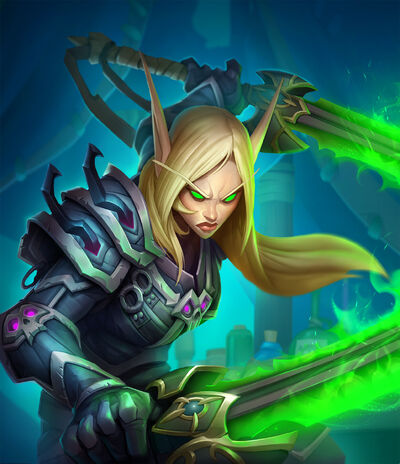 Each hero has their own selection of audio and written emotes that are produced in response to specific events. For more information, see Emote.
Most of Deathmantle Valeera's sounds are the same as Valeera Sanguinar. Unique, different ones are noted as Unique in References section.
| Type | Transcript |
| --- | --- |
| Attack [1] | Link▶️Without a trace.[1] |
| Death [1] | Link▶️<Death> |
| Emote: Greetings | Link▶️Just what are you up to?[1] |
| Emote: Well Played | Link▶️I bring out the best in you.[1] |
| Emote: Oops | Link▶️Oh dear…[1] |
| Emote: Threaten | Link▶️I wouldn't cross me if I were you.[1] |
| Emote: Thanks | Link▶️Your assistance is… adequate.[1] |
| Unused: Sorry | Link▶️Sorry about that. |
| Concede | Link▶️I give up. |
| Start | Link▶️Stay in the shadows![1] |
| Running out of time | Link▶️I must choose soon! |
| Thinking [1] | Link▶️Hmmm... |
| Thinking [2] | Link▶️I wonder... |
| Thinking [3] | Link▶️So many options... |
| Almost out of cards | Link▶️I'm almost out of cards! |
| Out of cards | Link▶️I'm out of cards! |
| Error: Need a weapon | Link▶️I need a weapon. |
| Error: Not enough mana | Link▶️I don't have enough Mana. |
| Error: Minion exhausted | Link▶️That minion already attacked. |
| Error: Hero already attacked | Link▶️I already attacked. |
| Error: Minion not ready | Link▶️Give that minion a turn to get ready. |
| Error: Hand already full | Link▶️My hand is too full! |
| Error: Too many minions | Link▶️I have too many minions. |
| Error: Can't target Stealthed minion | Link▶️I can't target Stealthed minions. |
| Error: Can't play that card | Link▶️I can't play that. |
| Error: Not a valid target | Link▶️That's not a valid target. |
| Error: Must attack Taunt minion | Link▶️A minion with Taunt is in the way. |
| Error: Generic | Link▶️I can't do that. |
| Selection in Choose Your Hero | Link▶️You won't regret this.[1] |
| Emote: Greetings [Lunar New Year] | Link▶️Happy New Year! |
| Start [Mirror] | Link▶️Sorry, I've gone rogue.[1] |
| Emote: Greetings [Holidays] | Link▶️Happy Feast of Winter Veil. |
| Emote: Wow | Link▶️Very nice.[1] |
| Emote: Greetings [Happy New Year] | Link▶️Happy New Year! |
| Emote: Greetings [Fire Festival] | Link▶️Happy Midsummer. |
| Unused: Greetings [Pirate Day] | Link▶️Yarrr! |
| Emote: Greetings [Happy Halloween] | Link▶️Happy Hallow's End. |
| Unused: Greetings [Happy Noblegarden] | Link▶️Happy Noblegarden. |
| Emote: Greetings [Mirror] | Link▶️No good, obviously.[1] |
Patch changes
[
]
References
[
]