Deathlord
Regular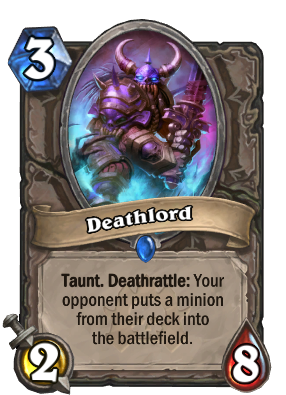 Gold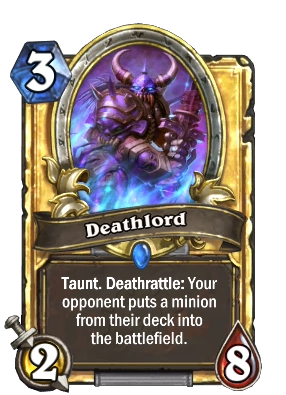 Taunt. Deathrattle:
Your opponent puts a minion from their deck into the battlefield.
Flavor text
"Rise from your grave!" - Kel'Thuzad
External links
Deathlord is a rare neutral minion card, from the Naxxramas set.
How to get
[
]
Two copies of regular Deathlord are obtained by defeating The Four Horsemen in Curse of Naxxramas's Military Quarter.
As a Wild-format card, both regular and golden versions of Deathlord can also be crafted for the following amounts:
| Card | Crafting cost | Disenchanting |
| --- | --- | --- |
| Deathlord | 100 | 20 |
| Golden Deathlord | 800 | 100 |
Notes
[
]
Deathlord's Deathrattle causes the opponent to place a random minion from their unused deck directly onto the battlefield.[1] The card is removed from the player's deck.[1] If the opponent has no minions remaining in their deck, no minion will be summoned.[2]
Deathrattle interactions
[
]
Like every other minion in the game, Deathlord's Deathrattle is not processed until after it has been killed and removed from play. Also note that when multiple deaths happen simultaneously, each one and all its consequences are resolved before moving to the next one. This means that if the Deathlord is played first and summons a minion that triggers on deaths, before then dying simultaneously to another minion, the minion summoned by the Deathlord's Deathrattle may react to the death of the other minion. In addition, if the Deathlord was killed by a spell, the spell will not resolve until after all deaths are processed, allowing newly summoned Flamewakers and Wild Pyromancers to immediately trigger.
Examples:
Fixed bugs
[
]
Strategy
[
]
As a 2/8 Taunt for 3 mana, Deathlord boasts the stats of a minion that would ordinarily cost 5 mana, with the obvious downside of the retrieval of a minion for your opponent from their deck. Though this will always give your opponent a free minion (unless the deck has no minions left), the Battlecries from the card will not trigger, making Deathlord a card that is valuable if it wastes an important Battlecry, such as that of Novice Engineer or Big Game Hunter.
Deathlord should be used primarily as a means to stall for the late game. It is particularly effective against aggressive decks, as they use many weak minions in an attempt to defeat you before they lose their control over the game. A cheap but powerful Taunt means several minions need to be sacrificed to kill it, granting both time and card advantage. It is however unwise to play Deathlord against control-style decks, as the death of your Deathlord may result in a very powerful minion appearing on the board, such as Ragnaros the Firelord or Deathwing, leading to a difficult-to-reverse swing into your opponent's favor.
Another less obvious use for Deathlord is in mill decks; summoning a minion out of the opponent's deck is essentially the same as drawing a card for them in terms of removing a card from their deck, and Deathlord's huge body helps survive against aggression, a common weakness in mill decks.
Trivia
[
]
Quotes
[
]
Summon

Death does not scare me!
Attack

Death!
Death

No! Noo!
Gallery
[
]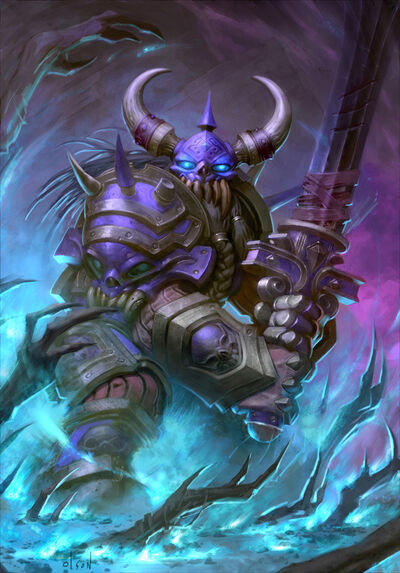 Patch changes
[
]
References
[
]