Death Knight Arthas is the seventh boss in demon hunter's Book of Heroes chapter.
Hero Power
[
]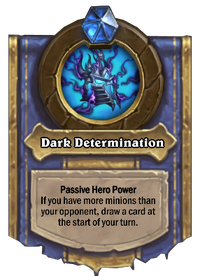 Passive
Player's hero
[
]
Special cards
[
]
Boss
[
]
Player
[
]
Decks
[
]
The below classes are listed purely for reference, and have no effect on the boss' use of the cards during the battle.
Notes
[
]
The player always gets Chaos Strike, Eye Beam, Stolen Vengeance on mulligan.

These cards can be replaced with Immolation Aura, Spectral Sight, Talented Arcanist. The replacement takes place from left to right (i.e., if the player replaced one card, they will receive Immolation Aura regardless of whether Chaos Strike or Stolen Vengeance was replaced).

The player always draws the cards in next order at first ten turns:
Boss starts with three Icecrown Obelisks on the board while the player starts with one.
The player has to gain control of all Icecrown Obelisks to win this encounter.
Despite the wording, Frostmourne's battlecry destroys the minions instead of removing them.

Frostmourne's battlecry does not affect Icecrown Obelisks.
Strategy
[
]
Dialogue
[
]
Before match
Introduction
Emote Response
Idle
Turn 1
Turn 2
Turn 4
Turn 5
Turn 6
Turn 7
Turn 9
Gaining control of the Icecrown Obelisks
Death
Defeat
Lore
[
]
Gallery
[
]
Patch changes
[
]