Dean Ayala
Regular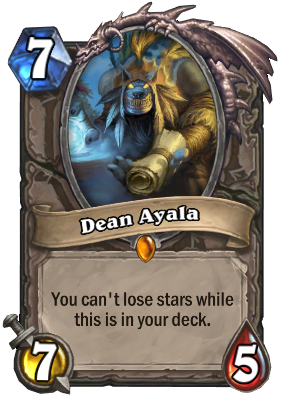 You can't lose stars while this is in your deck.
External links
August Dean Ayala is a Game Designer, working in final design on the Team 5 Hearthstone design team.[1][2][3]
Official
[
]
As a game designer on Blizzard Entertainment's Hearthstone team, Dean Ayala is primarily focused on testing and balancing new cards in development. He also contributes to Adventure design, matchmaking, and bug fixing.
Ayala joined Blizzard Entertainment in 2011 as part of the quality assurance team where he supported the development of World of Warcraft, Diablo III, and Hearthstone before making the transition to game design. Dean is passionate about all of Blizzard's game franchises and has welcomed the opportunity to work on several titles since he joined the company.
Dean is an avid gamer who enjoys playing all types of games, from collectible card games and team brawlers to first-person shooters and MMOs. As a former restaurant consultant, Dean enjoys eating good food and will travel anywhere to find it—especially if it's good pizza.[4]
History
[
]
Prior to Hearthstone, Ayala had worked as Quality Assurance on StarCraft II: Heart of the Swarm[5] and on Diablo III.[6] When Ayala first heard what type of game Hearthstone (then code-named Pegasus) was, he was "actually a little bit disappointed", thinking "I don't really play card games." However, after taking the game home, Ayala soon began playing it for several hours each night. With no substantial experience with similar games, Ayala describes Hearthstone as "the first collectible card game I'd ever put a lot of time into."[2]
With the first Ranked Season in December 2013, Ayala was surprised to discover he had achieved rank 1 legend, ranking as the top player in the Americas region at that time. After sharing decklists for his current decks on an internal mailing list for Hearthstone players at Blizzard, Ayala was contacted by Mike Donais, at that time the sole member of the final design team, focusing on card balance. Ayala began to help Donais with playtesting, and a few months later on 16th June 2014 officially joined the team.[7][8][6]
Notes
[
]
In the reveal streams prior to the release of new expansions such as The Grand Tournament and Whispers of the Old Gods, Ayala has served as opponent in showmatches designed to reveal new cards. He has also designed the decks used by both players.[9]
According to Mike Donais in September 2016, Ayala plays "a lot" of Arena.[13]
On November 29, 2016, Ayala reached 8,000 Play mode wins and 2,000 Arena wins on his main account.[14] However, Ayala has stated that he uses several different accounts, which he frequently uses to play multiple games at once, meaning that his total number of wins is likely exponentially higher.[15]
Ayala describes his average work day as "lots of playtesting, lots of coordinating with teams like engineering and art, and people working on the set that's coming next, and the people working on the set that's coming after that, and making sure that we're all sort of on the same page".[16] Ayala works "mostly on cards ... making sure the card designs are fun, and finding what decks they go in", as well as predicting the coming meta, and of course "lots of playing Hearthstone".[16]
Trivia
[
]
Ayala describes himself as a "very, very, very competitive person", determined to win even during playtesting matches. He has stated playtesting Yogg-Saron was the first time he intentionally passed up lethal in Hearthstone, in order to see its effects play out.[2]
The World of Warcraft NPC Shadow-Sage Iskar was created in tribute to Ayala, referencing his username, 'Iksar'.[17] Ayala is also referenced by the pandaren NPC Din Ayala[18] as well as the legendary ring Ayala's Stone Heart. The latter's flavor text reads, "In the pits of Valhalas, Ayala the Relentless cut down foe after foe on his way to legend. Becoming more lethal as his opponents weakened, he was truly terrifying to spectate."[19]
Before he worked in game design, Ayala's parents owned a chain of pizza restaurants that he "basically lived and worked in for 20 years". As a result, the two subjects Ayala considers himself to be very knowledgeable about are Hearthstone and pizza.[20]
Ayala states that it took 4 rejections and "a lot of work" before he was hired at Blizzard, and encourages those seeking jobs in the industry not to give up after a rejection.[21]
Ayala says World of Warcraft quest design is what first made him want to be a game designer.[22]
Trivia
[
]
Gallery
[
]
Patch changes
[
]
Patch 2.7.0.9166 (2015-06-15): Added to the game's credits. Credits card added.
(2014-06-16): Joined Team 5.
References
[
]
External links
[
]
Videos
Selected media