"Come one, come all, to the Darkmoon races! There's no part of the faire that has more surprises! Or... perils. Step right up, and enter the most wondrous race you'll ever see! Take a peek at the competition. You'll be racing against one of our veterans! I see you're getting the hang of racing. The speed, the chaos, I can hardly follow it! You are going to be a big hit on this race track!"
Darkmoon Races is Hearthstone's first mini-set, featuring 35 new collectible cards. It was released on January 21st, 2021.
Expanding upon the setting at Madness at the Darkmoon Faire as well as Ashes of Outland and Scholomance Academy, this set takes place at the breakneck trails at the fairgrounds, as racers from Outland, Scholomance, and Darkmoon all compete for glory.
How to get
[
]
Darkmoon Races cards are available through the following options:
Limited-time
All 35 (66 copies in total) Darkmoon Races cards can be obtained through a bundle for the following prices from January 21 to May 10, 2021:
| USD | EUR | GBP | AUD | RUB | Gold |
| --- | --- | --- | --- | --- | --- |
| $14.99 | €14.99 | £~ | $19.95 | 899₽ | 2000 |
Cards
[
]
This expansion features 35 collectible cards. Darkmoon Races cards can be recognized with a special watermark (the Madness at the Darkmoon Faire logo emerging from a card) behind the card text, not found on other cards.
Neutral
Demon Hunter
Druid
Hunter
Mage
Paladin
Priest
Rogue
Shaman
Warlock
Warrior
Dual-class cards
[
]
Darkmoon Races Dual-class cards
Swipe left or right to see the cards.
Uncollectible
Darkmoon Races uncollectible cards
Swipe left or right to see the cards.
Choice cards
Darkmoon Races choice cards
Swipe left or right to see the cards.
Trailer
[
]
Lore
[
]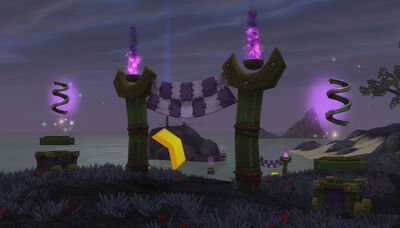 Malle Earnhard runs the Darkmoon Races, starting at the boardwalk. The objective is to make it from the start/finish line to a set number of colored checkpoints, and then back to the finish line in as few bell tolls as possible, while taking advantage of speed and jump boosts and avoiding electrified fences.
History
[
]
Blizzard announced there would be a 35 card mini-set released for Madness at the Darkmoon Faire during the initial reveal for the expansion.
On January 17th, 2021, news site Windows Central mistakenly posted a press release for the set a few days early[1][2], revealing details including the price and returning mechanics from old sets, as well as updates to Battlegrounds and Duels coming in the same patch.
On January 19th, the set was officially announced with a trailer posted on the Hearthstone YouTube channel, which revealed the cards
Keywarden Ivory,
Envoy Rustwix, and
Landslide. Cards were revealed in groups every hour, which continued throughout the day until every card had been revealed.
Trivia
[
]
Darkmoon Races is the first Mini-set.
Darkmoon Races had the shortest reveal season of any card set. It was revealed on January 19th, 2021, and every card was revealed that day.
Patch changes
[
]
References
[
]