Darkbomb
Darkbomb is a common warlock spell card, from the Goblins vs Gnomes set.
Darkbomb can be obtained through Goblins vs Gnomes card packs, or through crafting.
| Card | Crafting cost | Disenchanting |
| --- | --- | --- |
| Darkbomb | 40 | 5 |
| Golden Darkbomb | 400 | 50 |
A worthwhile removal tool for Warlock. Darkbomb avoids the drawback of cards like Soulfire and Spirit Bomb, making it preferable in some cases. This is especially the case for Control decks, who don't want to discard or sacrifice too much health. It's also capable of damaging the opponent's hero and is one mana cheaper than Shadow Bolt, giving it important flexibility.
While this card is strictly worse than Frostbolt and Quick Shot, Life Tap generally makes up for this.
This card is a counterpart to the Priest spell Lightbomb.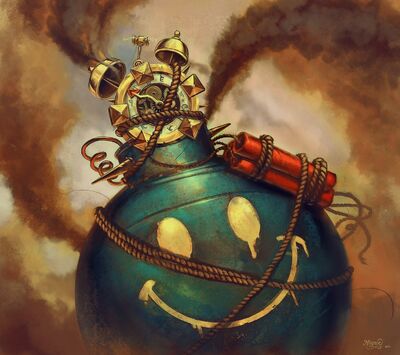 Patch 2.0.0.7234 (2014-12-04): Added.