Dagg Cruelmight
Regular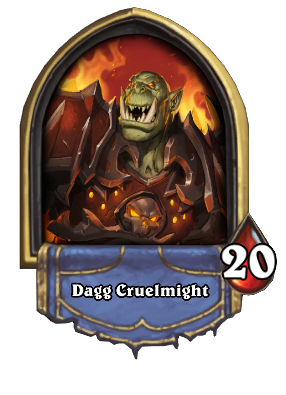 Gold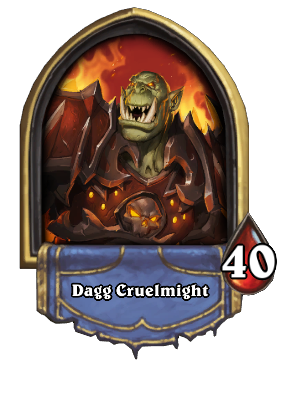 Flavor text
You never kick a man when he's down. Unless you're Dagg.
External links
Dagg Cruelmight is a boss that can be encountered in The Dalaran Heist adventure.
Hero Power
[
]
| Normal | Heroic |
| --- | --- |
| | |
Decks
[
]
The below classes are listed purely for reference, and have no effect on the boss' use of the cards during the battle.
Strategy
[
]
Dagg has a lot of removals and will use it to the best of his ability. Try keeping the board empty until you can drop more than one minion a turn.
Dialogue
[
]
Introduction
Dagg Cruelmight

You are not long for this world.
What are ya gonna do, kill me with corniness?
You is stopping being so rude now!
And you are nothing more than a common bully.
Emote Response
Dagg Cruelmight

You know it's nice to have someone to talk to.
Hero Power
Dagg Cruelmight

Be crushed beneath my might!
I will flatten you beneath my boots.
I'm angry because of low self ESTEEM!
I'm jealous that your minions are BETTER!
I'm just projecting my issues onto YOU!
The strong trample the weak!
Tremble and BREAK!
Worthless! Pathetic!
You will be forgotten!
You'll never amount to anything!
Idle
Dagg Cruelmight

I feel like my insults have been lacking lately...
Oh I had a great one lined up this morning...
What do I yell at next...
Boss cards
Player's cards
Dagg Cruelmight

Inner Rage

Seeth with rage!

Devastate

Yeah! Get 'em! They were weak anyways!

Burgly Bully

Oh hey Billy! How's the bullying going?

Any dragon

Hiding behind a big ol' beast, huh?
Death
Dagg Cruelmight

(gasp)
Defeat
Dagg Cruelmight

Hahahahaha!
Lore
[
]
Dagg Cruelmight is unique to Hearthstone.
Gallery
[
]
Patch changes
[
]
The Dalaran Heist
Heroes
Chapter 1: Dalaran Bank

| | |
| --- | --- |
| Level 1 | |
| Level 2 | |
| Level 3 | |
| Level 4 | |
| Level 5 | |
| Level 6 | |
| Level 7 | |
| Level 8 | |

Chapter 2: The Violet Hold

| | |
| --- | --- |
| Level 1 | |
| Level 2 | |
| Level 3 | |
| Level 4 | |
| Level 5 | |
| Level 6 | |
| Level 7 | |
| Level 8 | |

Chapter 3: Streets of Dalaran

| | |
| --- | --- |
| Level 1 | |
| Level 2 | |
| Level 3 | |
| Level 4 | |
| Level 5 | |
| Level 6 | |
| Level 7 | |
| Level 8 | |

Chapter 4: The Underbelly

| | |
| --- | --- |
| Level 1 | |
| Level 2 | |
| Level 3 | |
| Level 4 | |
| Level 5 | |
| Level 6 | |
| Level 7 | |
| Level 8 | |

Chapter 5: Kirin Tor Citadel

| | |
| --- | --- |
| Level 1 | |
| Level 2 | |
| Level 3 | |
| Level 4 | |
| Level 5 | |
| Level 6 | |
| Level 7 | |
| Level 8 | |
| Level 9 | |
| Level 10 | |
| Level 11 | |
| Level 12 | |

Tavern