Cutthroat Willie
Regular
Gold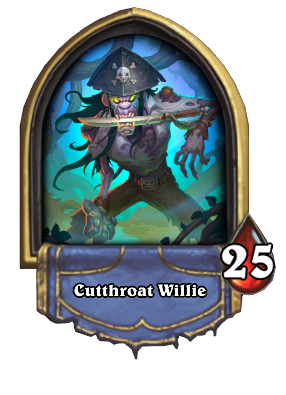 Flavor text
WANTED: For doing exactly what his name suggests.
External links
Cutthroat Willie is a boss that can be encountered during the Monster Hunt.
Hero power
[
]
Deck
[
]
The below classes are listed purely for reference, and have no effect on the boss' use of the cards during the battle.
Strategy
[
]
Darius Crowley
[
]
For Darius, you can keep dropping minions as Cutthroat Willie's hero power will affect your enraged minions and might decide not to use it.
Houndmaster Shaw
[
]
To win with hound Shaw, you must attack and destroy. If you plan on using your hero power. Kill you hounds immediately by driving them into his minions.
Toki, Time-Tinker
[
]
Cutthroat Willie will be a challenge for Toki. It is important that if a random effect does not go your way, you redo it. Keep dealing with his minions before going face.
Tess Greymane
[
]
Willie is slow and usually plays one minion at a time. As long as you meet up with the minions he throws at you without skipping a turn, you won.
Dialogue
[
]
Introduction
Cutthroat Whillie

The Cap'n wants me to "disappear" ye.
Fancy yourself a commander do ye? Does it pay well? (vs. Darius Crowley)
Cap'n's got a grudge on you, Princess. (vs. Tess Greymane)
Emote Response
Cutthroat Willie

Keep talkin', more of me crew is on the way.
Save yer beggin' for Cap'n Shivers, Princess! (vs. Tess Greymane)
Player's cards
Cutthroat Willie

Coin / Counterfeit Coin

I knew ye were carryin' coin!

Shiv

I like the way ye work.
Death
Cutthroat Willie

(screams)
Defeat
Cutthroat Willie

Beautiful! I can finally afford a sheath for me dagger.
Lore
[
]
Cutthroat Willie is unique to Hearthstone. He is a member of Captain Shivers's crew.
Gallery
[
]
Patch changes
[
]
Monster Hunt
Heroes
Level 1
Level 2
Level 3
Level 4
Level 5
Level 6
Level 7
Level 8




Final Challenge