Cult Sorcerer
Cult Sorcerer
| | |
| --- | --- |
| Set: | Whispers of the Old Gods |
| Type: | Minion |
| Class: | Mage |
| Rarity: | Rare |
| Cost: | 2 |
| Attack: | 3 |
| Health: | 2 |
| Abilities: | Increment attribute, Spell Damage |
| Tags: | C'Thun-related, Spell-related, Triggered effect |
| Artist: | J. Meyers & T. Washington |
Spell Damage +1
After you cast a spell, give your C'Thun +1/+1 (wherever it is).
No matter how many times we tell her not to, she keeps feeding C'Thun scraps under the table.
Cult Sorcerer is a rare mage minion card, from the Whispers of the Old Gods set.
Cult Sorcerer can be obtained through Whispers of the Old Gods card packs, or through crafting.
| Card | Crafting cost | Disenchanting |
| --- | --- | --- |
| Cult Sorcerer | 100 | 20 |
| Golden Cult Sorcerer | 800 | 100 |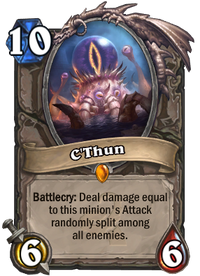 This card is a straight upgrade over Kobold Geomancer for mages, even without C'Thun in the deck, for strategy, see Kobold Geomancer#Strategy
Summon

Let's make magic.
Attack

Sparkle!
This minion is a sorcerer in one of C'Thun's cults.