Crystal Power
Crystal Power
Choose One - Deal 2 damage to a minion; or Restore 5 Health.
Often used as healing crystals, but also good for throwing at people.
Crystal Power is a common druid spell card, from the Rise of Shadows set.
Crystal Power can be obtained through Rise of Shadows card packs, or through crafting.
| Card | Crafting cost | Disenchanting |
| --- | --- | --- |
| Crystal Power | 40 | 5 |
| Golden Crystal Power | 400 | 50 |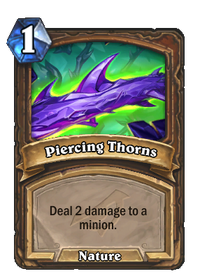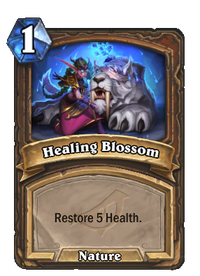 The damage can only target minions, but the healing can target any character.
When combined with an effect that causes both Choose One choices to activate (Ex. Ossirian Tear, Fandral Staghelm), it will deal damage to the target then heal it.

If the target is destroyed from the damage, it will not be healed.
If you target a hero, only the healing portion will activate, since Piercing Thorns is not allowed to target heroes.
A solid utility heal that can alternatively be used to destroy a weak minion. Crystal Power has good synergy with Lucentbark, triggering his effect for only 1 mana.
Crystal Power has notable anti-synergy with Ossirian Tear and Fandral Staghelm, causing it to deal 2 damage then heal for 5 on the same target for a net healing of 3.