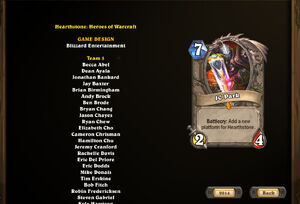 Hearthstone's credits can be viewed through the Options button from Game Menu. The credits screen features a full list of credits for the game, as well displaying special credits cards depicting prominent members of the production team.
The game's credits are currently updated annually, with a button in the bottom right corner allowing the viewer to switch between the 2015 and 2014 listings.
The credits are quite lengthy, taking around 45 minutes to display on the credits screen. To view the complete list, see Credits (list).
Patch changes
[
]
This section lists changes to the credits screen. For changes to the credits themselves, see Credits (list).
Patch 2.7.0.9166 (2015-06-15): The credits have been updated, and the credits screen now has the option to view either the 2014 or 2015 listings.
Patch 1.0.0.4944 (2014-03-11): The appearance of credits cards on the credits screen is now accompanied by cheers from the crowd.
See also
[
]