Confection Cyclone
Confection Cyclone
| | |
| --- | --- |
| Set: | Madness at the Darkmoon Faire |
| Type: | Minion |
| Minion type: | Elemental |
| Class: | Mage |
| Rarity: | Common |
| Cost: | 2 |
| Attack: | 3 |
| Health: | 2 |
| Abilities: | Battlecry, Generate |
| Tags: | Elemental-generating |
| Artist: | Anton Zemskov |
Battlecry: Add two 1/2 Sugar Elementals to your hand.
"Oh, I thought it was a desert elemental?"
See this card on PlayHearthstone
Confection Cyclone is a common mage minion card, from the Madness at the Darkmoon Faire set.
Confection Cyclone can be obtained through Classic card packs, through crafting, or as an Arena reward.
| Card | Crafting cost | Disenchanting |
| --- | --- | --- |
| Confection Cyclone | 40 | 5 |
| Golden Confection Cyclone | 400 | 50 |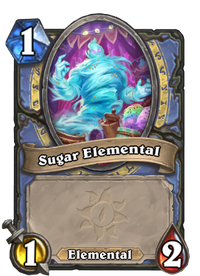 Please add any available information to this section.
Confection Cyclone can be considered an upgraded version of Fire Fly, generating an additional 1/2 minion in the hand for 1 extra mana and a slightly stronger body on the board. This allows it to synergize with Gyreworm on tempo if played on Turn 2. In addition, the Sugar Elemental minions can be subsequently played to trigger Elemental Allies or Animated Avalanche, or even saved for an explosive Grand Finale.
Summon
Attack
Death
Confection Cyclone seems to be a pile of desserts turned into an elemental of some type.