GTA: The Criminal Enterprises - The Loop
Play Sound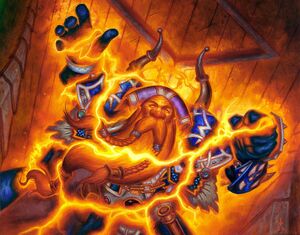 Combo Priest is a Priest deck type with a focus around its
Divine Spirit card to create a hugely buffed minion, followed up by a card like
Inner Fire to convert it into massive burst damage. Despite the name, it's often not a slow OTK setup-based control deck, but plays more like a tempo or aggro deck that turns its board advantage into lethal burst damage, and is one of the faster Priest decks overall.
Various forms of Combo Priest existed through Hearthstone's history, but it reached peak popularity in Saviors of Uldum with powerful synergy and tempo cards like
High Priest Amet and
Psychopomp.
Patch 17.0.0.44222 removed the Divine Spirit/Inner Fire combo from Standard format by moving Divine Spirit to the Wild-exclusive Hall of Fame set.
Common cards
[
]
The following cards are usually in the deck.
Core cards
[
]
The following cards are played in most or all versions of the deck:
Dragon package
[
]
Optional cards
[
]
The following cards are played more than occasionally, but not always: