Claw
Claw is a druid spell card, inducted into the Legacy set, formerly from the Basic set. It grants the druid +2 Attack this turn, and 2 Armor.
Two copies of regular and golden Claw are automatically given after the player completes the Ranked's New player experience system, unlocking Wild and Classic format.
They are uncraftable and cannot be crafted or disenchanted.
Prior Year of the Gryphon's rotation on March 30, 2021:
Two copies of Claw were automatically included in all players' collections upon unlocking the druid class.
As well as being collected in decks, this card can also be generated by the following card.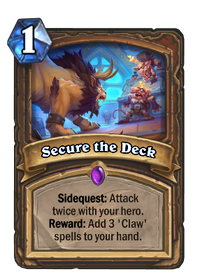 The Attack granted by Claw may be used to target minions or heroes. Claw is best used to destroy a pesky enemy minion, as the Armor it provides will help block the damage from the minion you target. Used in conjunction with the druid hero power Shapeshift, you can deal 3 damage and protect yourself from 3 damage.
In World of Warcraft, Claw was an attack available to druids in Cat Form.