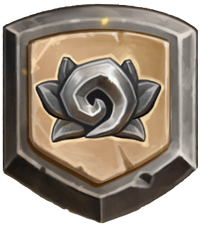 For the former card set, see Classic (2014-2021).
Classic format (or Classic) is one of Hearthstone's three game formats in Play mode, the others being Standard format and Wild format. Classic format restricts players to the 240 cards from the original Basic and Classic sets as they appeared on the 1.0.0.5832 patch of June 2014. No card changes, removals, or additions to those sets are in effect (aside from purely cosmetic changes), letting you play the game as it was when Hearthstone first officially launched.[1]
Classic cards are mirrored in the Legacy set. Owning a Legacy card also gives you access to the Classic version.
Definition
Availability
Hero Powers
Cards
Design
References