Chromaggus
Regular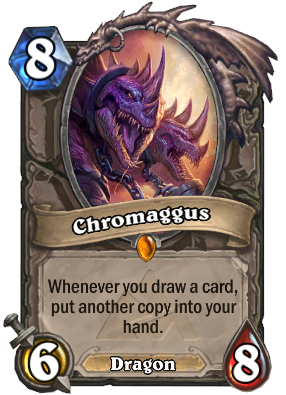 Gold
Whenever you draw a card, put another copy into your hand.
Flavor text
Left head and right head can never agree about what to eat for dinner, so they always end up just eating ramen again.
External links
For the boss of the same name, see Chromaggus (boss)
Chromaggus is a legendary neutral minion card, from the Blackrock Mountain set.
How to get
[
]
Regular Chromaggus is obtained by completing the Blackwing Lair wing of Blackrock Mountain.
As a Wild format card, both regular and golden versions of Chromaggus can also be crafted for the following amounts:
| Card | Crafting cost | Disenchanting |
| --- | --- | --- |
| Chromaggus | 1600 | 400 |
| Golden Chromaggus | 3200 | 1600 |
Notes
[
]
Fixed bugs
[
]
Strategy
[
]
Unlike Ysera, Chromaggus usually has to survive until the start of your next turn to get the guaranteed value of duplicating a drawn card. However, there are ways to guarantee value:
Chromaggus is a slow card and offers no advantage against an aggro opponent, so it becomes more useful the more control-oriented your deck is, the more control-oriented the meta is and the more draw you have in your deck.
Lore
[
]
Blackrock Mountain

[

]
What's worse than a horrible mutant dragon monstrosity that uses magic? A horrible mutant dragon monstrosity that uses five types of magic, obviously! Chromaggus unleashes abilities ripped from the flesh of all five dragon flights. Don't ask how he got those powers. Viscera are involved. Hey, we told you not to ask! You'll have to battle the chromatic horror before you can take on Lord Victor Nefarius.[23]
World of Warcraft

[

]

This section uses content from Wowpedia.
Chromaggus is a two-headed dragon beast in Nefarian's service, who resides in Blackwing Lair, coming after Flamegor and before Nefarian. He drops the Tier 2 shoulders for all classes.
One of the most challenging aspects to Chromaggus is the randomness of his abilities. As the name suggests (the word chromatic is derived from "khroma", the Greek word for "color", suggesting Chromaggus takes his powers from dragonflights of all colors), Chromaggus shimmers in a variety of colors, which relate to his current abilities. These abilities are determined upon instance creation, and will only be reset with the instance timer.
Despite his canine appearance, he's actually a dragonkin. It is speculated that he was created by Nefarian experimenting on captured Core Hounds, such as The Beast found in Upper Blackrock Spire, possibly by feeding or injecting dragon blood from various dragons from all dragonflights.
Gallery
[
]
Patch changes
[
]
References
[
]