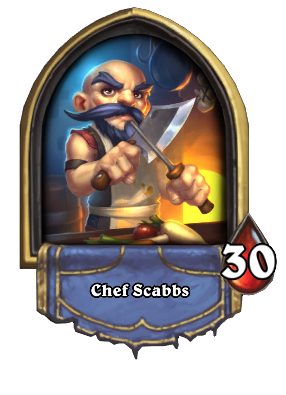 For other representations of Scabbs, see Scabbs Cutterbutter (disambiguation).
Chef Scabbs is an alternate hero for the

Rogue class.
Background
[
]
This is one of Scabbs' appearances of his early days as a chef in the Eastern Kingdoms before he joined the SI:7.
How to get
[
]
Chef Scabbs is obtained by purchasing the Tavern Pass and reaching level 5 in the United in Stormwind's Rewards Track.
Functionality
[
]
Once unlocked and selected for use, Chef Scabbs replaces Valeera Sanguinar whenever the player uses a Rogue deck, as well as:
Comes with own portrait
Has custom emotes
For more information, see Alternate heroes.
Flavor text
[
]
When viewed in the Collection, Chef Scabbs has the following flavor text:
Cutterbutter knows the recipe for a perfect Hearthstone deck.
Earnable after purchasing the Tavern Pass.
Sounds
[
]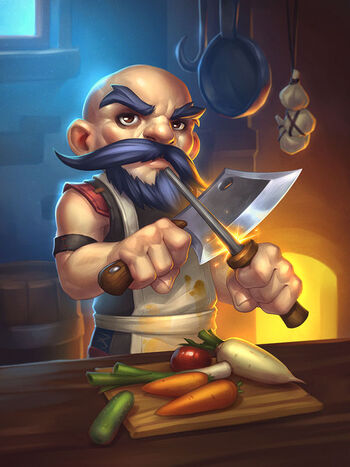 Each hero has their own selection of audio and written emotes that are produced in response to specific events. For more information, see Emote.
| Type | Transcript |
| --- | --- |
| Summon [1] | Link▶️ |
| Trigger: Assassinate | Link▶️Assassinate! |
| Trigger: Shroud of Concealment | Link▶️Stick to the shadows. |
| Trigger: Sprint | Link▶️Gotta go fast. |
| Trigger: Wicked Stab(Rank 1, 2, 3) | Link▶️Gotcha! |
| Attack [1] | Link▶️Choppy choppy![1] |
| Attack [2] | Link▶️ |
| Death [1] | Link▶️<Death> |
| Emote: Greetings | Link▶️I'll be your server today.[1] |
| Emote: Well Played | Link▶️This was a gourmet meal.[1] |
| Emote: Oops | Link▶️Recipe for disaster![1] |
| Emote: Threaten | Link▶️You're gonna get boiled![1] |
| Emote: Thanks | Link▶️Cheers, mate.[1] |
| Unused: Sorry | Link▶️You should send that back to the kitchen. |
| Start | Link▶️Time to slice and dice.[1] |
| Thinking [1] | Link▶️Hmm… |
| Thinking [2] | Link▶️What should I order? |
| Thinking [3] | Link▶️Hold on, I'm gettin' inspiration. |
| Error: Need a weapon | Link▶️I need something to cut with! |
| Error: Not enough mana | Link▶️Need more fuel. |
| Error: Minion exhausted | Link▶️That minion already attacked. |
| Error: Hero already attacked | Link▶️I already attacked. |
| Error: Minion not ready | Link▶️Give that minion a turn to get ready. |
| Error: Hand already full | Link▶️I'm stuffed! |
| Error: Can't target Stealthed minion | Link▶️I can't attack a minion with Stealth. |
| Error: Can't play that card | Link▶️I can't play that. |
| Error: Not a valid target | Link▶️That's not a legal target. |
| Error: Must attack Taunt minion | Link▶️A minion with Taunt is in the way. |
| Error: Generic | Link▶️I can't do that. |
| Selection in Choose Your Hero | Link▶️Let's cook something up.[1] |
| Emote: Greetings [Lunar New Year] | Link▶️Happy New Year! |
| Start [Mirror] | Link▶️There are too many cooks in this kitchen.[1] |
| Emote: Greetings [Holidays] | Link▶️Happy Holidays! |
| Emote: Wow | Link▶️Delicious![1] |
| Emote: Greetings [Happy New Year] | Link▶️Happy New Year! |
| Emote: Greetings [Fire Festival] | Link▶️Happy Fire Festival! |
| Unused: Greetings [Pirate Day] | Link▶️Pirate Day? What do you know about the Defias Brotherhood? |
| Emote: Greetings [Happy Halloween] | Link▶️Happy Hallow's End! Want some homemade candy? |
| Unused: Greetings [Happy Noblegarden] | Link▶️Happy Noblegarden! Can I interest you in an omelette? |
| Emote: Greetings [Mirror] | Link▶️What are the specials?[1] |
| Concede | Link▶️My goose is cooked. |
| Running out of time | Link▶️Do you hear that sizzle? |
| Almost out of cards | Link▶️I'm running low on ingredients. |
| Out of cards | Link▶️My pantry is bare! |
| Error: Too many minions | Link▶️There's no room for that minion. |
Patch changes
[
]
References
[
]