m

(One intermediate revision by one other user not shown)
Line 6:
Line 6:
 

|artist=Alex Horley

 

|artist=Alex Horley

 

}}

 

}}

−

This is the [[Classic format]] version of '''Charge''', a [[free]] [[neutral]] [[minion]] card.

+

This is the [[Classic format]] version of '''Charge''', a [[free]] [[]] [[]] card.

 
 
 

For more information, see the [[Charge|original version]].

 

For more information, see the [[Charge|original version]].

 
 
 

==Other versions==

 

==Other versions==

 
+

{{versions new|Charge(464710)}}

−

<table class="wikitable"><tr><!--

 
−

--><th>Original<br>(Legacy)</th><!--

 
−

--></tr><tr><!--

 
−

--><td> {{Card|Charge (card)}} </td><!--

 
−

--></tr></table>

 
 
 
 

==How to get==

 

==How to get==
---
Revision as of 12:49, 3 May 2021
Charge
Regular
Gold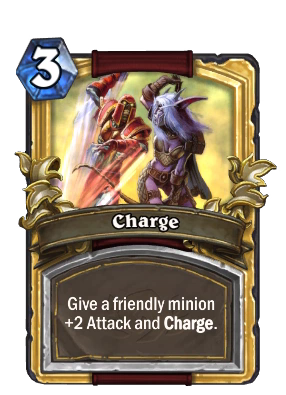 Give a friendly minion +2 Attack and
Charge
.
Flavor text
"Guys! Guys! Slow down!" - some kind of non-warrior minion
External links
This is the Classic format version of Charge, a free warrior spell card.
For more information, see the original version.
Other versions
How to get
Charge (Classic) is associated with its original version. If you own any copies of it, you can also use them in Classic format.
Strategy
Note: This section contains strategies that are only relevant to the Classic format.

Please add any available information to this section.
Patch changes