Roblox: DeepWoken - The Loop
Play Sound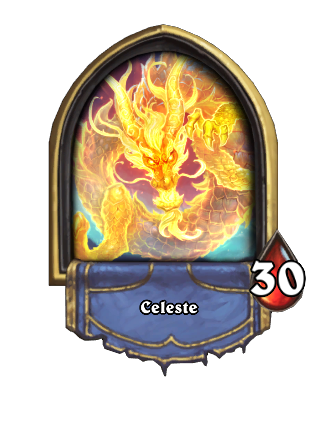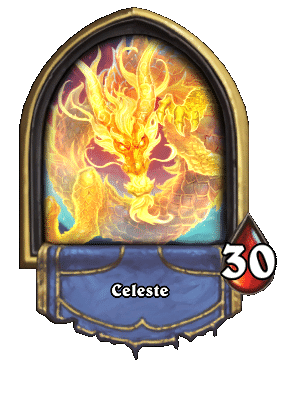 Celeste is an alternate hero for the mage class.
How to get
Celeste is currently available for obtaining.
Auto-detected sources

| Type | Source | Premium | Q. |
| --- | --- | --- | --- |
| Paid Track | Fractured in Alterac Valley Paid Track, level 50 | Regular | 1 |
Hero Power
Functionality
Main article: Alternate heroes
Once unlocked and selected for use, Celeste replaces Jaina Proudmoore whenever the player uses a Mage deck, as well as:
Comes with own portrait
Has custom emotes
Has custom tray
Flavor text
When viewed in the Collection, Celeste has the following flavor text:
This benevolent dragon watches over all magic-users in Pandaria—partially to see what kinds of spells they come up with!
Sounds
| Type | Transcript |
| --- | --- |
| Trigger: Astral Rift | Link▶️Oh, there you are! |
| Trigger: Luna's Pocket Galaxy | Link▶️We are all made of stardust. |
| Trigger: Mirror Image | Link▶️Two there are... |
| Trigger: Polymorph | Link▶️Look at yourself! |
| Trigger: Shooting Star | Link▶️Make a wish! |
| Trigger: Tome of Intellect | Link▶️Always learning... |
| Attack [1] | Link▶️How energizing! |
| Death [1] | Link▶️ |
| Emote: Greetings | Link▶️Greetings to you, friend. |
| Emote: Well Played | Link▶️You are a champion of great promise. |
| Emote: Oops | Link▶️Mistakes are a part of life. |
| Emote: Threaten | Link▶️You wish to be rebuked? |
| Emote: Thanks | Link▶️I am grateful. |
| Unused: Sorry | Link▶️I must apologize. |
| Concede | Link▶️The day is yours. I yield. |
| Start | Link▶️The possibilities are endless. |
| Running out of time | Link▶️Be swift. |
| Thinking [1] | Link▶️Much to ponder... |
| Thinking [2] | Link▶️How perplexing... |
| Thinking [3] | Link▶️Mmmm... |
| Almost out of cards | Link▶️Not many cards left. |
| Out of cards | Link▶️I am out of cards. |
| Error: Need a weapon | Link▶️I lack a weapon. |
| Error: Not enough mana | Link▶️I require more mana. |
| Error: Minion exhausted | Link▶️That one is resting! |
| Error: Hero already attacked | Link▶️I cannot strike again. |
| Error: Minion not ready | Link▶️It is still gathering strength. |
| Error: Hand already full | Link▶️My hand is full to the brim! |
| Error: Too many minions | Link▶️My board is packed. |
| Error: Can't target Stealthed minion | Link▶️That one is stealthed. Harumph. |
| Error: Can't play that card | Link▶️That is not within my power. |
| Error: Not a valid target | Link▶️Another one taunts me! |
| Error: Must attack Taunt minion | Link▶️Inconceivable. |
| Selection in Choose Your Hero | Link▶️Our stars have crossed! |
| Emote: Greetings [Lunar New Year] | Link▶️Happy New Year! |
| Start [Mirror] | Link▶️An apt observation. |
| Emote: Greetings [Holidays] | Link▶️Wishing you a very merry Winter Veil! |
| Emote: Wow | Link▶️That puts stars in my eyes! |
| Emote: Greetings [Happy New Year] | Link▶️Happy New Year! |
| Emote: Greetings [Fire Festival] | Link▶️All stars are fire, burning bright from afar. |
| Unused: Greetings [Pirate Day] | Link▶️Do you know what to call a dragon pirate? Neither do AYE. |
| Emote: Greetings [Happy Halloween] | Link▶️It's Hallow's End! Pretend I am in costume. |
| Unused: Greetings [Happy Noblegarden] | Link▶️Ah, Noblegarden! When is the egg hunt? |
| Emote: Greetings [Mirror] | Link▶️A friend indeed! |
| Error: Generic | Link▶️It is unreachable. |
Patch changes
References
[
]