Cascading Disaster
Cascading Disaster
Destroy a random enemy minion. Corrupt: Destroy 2. Corrupt Again: Destroy 3.
Please keep all hands, arms, feet and legs inside the ride until the monster comes to a complete stop.
See this card on PlayHearthstone
Cascading Disaster is an epic warlock spell card, from the Madness at the Darkmoon Faire set.
Cascading Disaster can be obtained through Madness at the Darkmoon Faire card packs, through crafting, or as an Arena reward. Regular Cascading Disaster can also be obtained through the Highest Rank Bonus chest at the end of a Ranked season.
| Card | Crafting cost | Disenchanting |
| --- | --- | --- |
| Cascading Disaster | 400 | 100 |
| Golden Cascading Disaster | 1600 | 400 |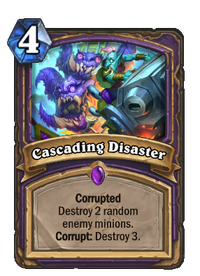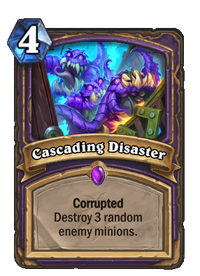 On its own, overpaying for a Deadly Shot is okay in Warlock. Once Corrupted however, Cascading Disaster becomes a highly efficient board clear, comparable to a half-cost Twisting Nether that doesn't hit your own board. You will need plenty of 5 cost or more cards to make Cascading Disaster worthwhile.
Don't be afraid to waste some of Cascading Disaster's value if you need the board cleared. Especially because each Corrupted one you cast will be put back into Y'Shaarj, the Defiler's pool of cards, allowing for major board swings on the turn it's played.
You can remove the RNG of this card by playing it only when the opponent has the number of minions the current stage is at or less, using it to clear the board entirely.
There are 3 achievements related to Cascading Disaster.